BBC Sport - Kevin O'Brien racks up 100th one-day cap for Ireland at Stormont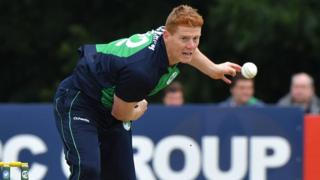 O'Brien racks up 100th one-day cap for Ireland
Kevin O'Brien celebrated his 100th one-day international cap for Ireland with a 12-run win over Afghanistan at Stormont on Tuesday.
O'Brien, who has played in all but seven of Ireland's one-dayers, scored just one run in Ireland's innings but took three Afghan wickets.
"I made my debut 10 years ago in 2006 and I'll go on as long as my body lets me," said O'Brien.