Glamorgan's Chris Cooke misses rest of season due to surgery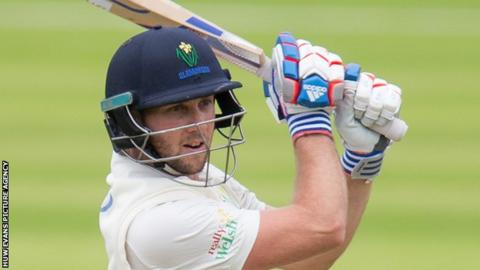 Glamorgan batsman/wicket-keeper Chris Cooke has been ruled out of action for the rest of the season with a back injury.
Cooke, 30, has been struggling with a persistent back problem since the start of the season and requires surgery to release a trapped nerve in his spine.
The 30-year-old has not played since the T20 Blast win over Surrey on 24 June.
"It's really tough because the 2017 season feels so far away," he said.
"But I just can't wait to get back playing and back in the team environment. It's such a good atmosphere and you miss it when you're not part of it."
Glamorgan physiotherapist Mark Rausa said: "Chris is suffering from a bulging or herniated disc in his back which is unfortunately pressing on the nerve as it exits the spinal column.
"Although we were hoping to get through the season and put it right during the winter, it is now clear that something has to be done sooner rather than later."
Cooke kept wicket in the first six T20 games and the first four One-Day Cup matches of the season.
South African-born Cooke was also behind the stumps in two Championship matches when Mark Wallace was left out, representing a big increase in wicket-keeping duties from previous seasons.
He was a regular member of the Glamorgan side in all forms of cricket, averaging 38 with the bat in the Championship, 37.5 in the One-Day Cup and 32.5 in the T20 Blast.
Wallace has been re-instated in the limited-overs team since Cooke's injury, and had already returned to the Championship line-up.
Meanwhile 21-year-old spinner Kieran Bull has returned to action after 11 months out.
Bull suffered a stress fracture of the back in August 2015, shortly after making his breakthrough into the first team squad.
He made his comeback in a three-day second eleven game against Sussex at Abergavenny, which started on Wednesday, 27 July.
Andrew Salter, Dean Cosker and Owen Morgan have all played for Glamorgan as specialist spinners this season.