Ireland v Pakistan: Rain washes out one-day international at Malahide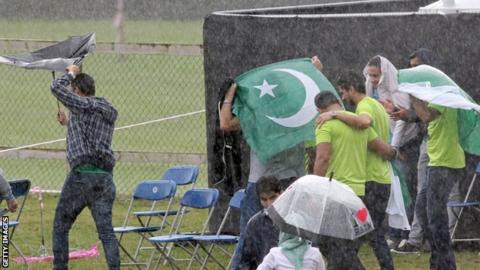 Persistent rain led to the second one-day international between Ireland and Pakistan being abandoned without a ball bowled at Malahide on Saturday.
Prospects for play were grim once bad weather delayed the scheduled 10:45 BST start at the north Dublin venue.
Conditions never looked like improving as heavy rain continued to lash the ground.
Pakistan won the two-match series 1-0 after thrashing Ireland by 255 runs in the first ODI at Malahide on Thursday.
The tourists now face England in a five-match ODI series that begins at Southampton on Wednesday - where a new trial involving TV umpires calling no-balls will be held.