Guernsey Sarnians end first Sussex season with a victory and a defeat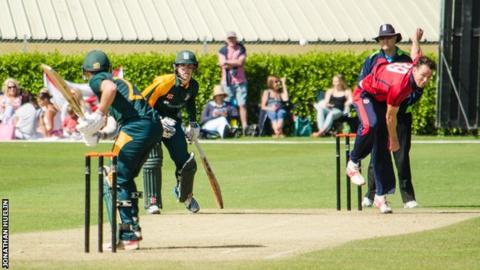 Guernsey Sarnians ended their first season in the Sussex Cricket League's Second Division with a win and a defeat in their final two games.
Josh Butler (56) and Ben Fitchet (32) helped Guernsey make 171-8 in their match against Ifield on Sunday.
Matt Stokes then took 5-14 as the islanders bowled out Ifield for 119 in 41 overs for a 52-run win.
Guernsey's joy was short-lived as they were beaten by 64 runs at Ansty 24 hours later.
Stokes, David Hooper and Chris Perry each took two wickets as Ansty totalled 232-7 in their innings, before the island side was bowled out for 168 in 42 overs despite Tom Nightingale's 49 and 44 by Anthony Stokes.
The island side ended their first season in UK cricket with three wins and four losses from their 10 matches.
Sarnians played each side once and are currently seventh in the 11-team table, with the other teams having two more matches to play.