Younus Khan: Pakistan batsman to retire after West Indies Test series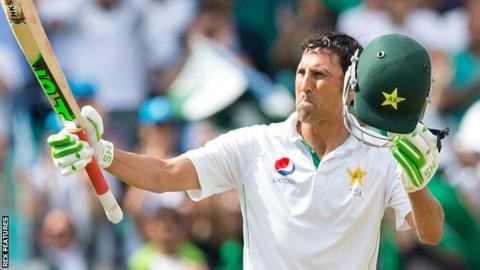 Pakistan batsman Younus Khan has announced he will retire after their three-match Test series against West Indies, which starts on 22 April.
The 39-year-old is Pakistan's leading run-scorer in Test cricket, having made 9,977 runs in 115 Tests since his international debut in 2000.
He has an average of 53.06, with 34 centuries and a highest score of 313.
"I will be retiring from international cricket after the West Indies series with my head held high," said Younus.
"I think this is the right time as every sportsman has to take this decision in his career."
He previously captained Pakistan in all three formats of the game and led them to their only World Twenty20 title in England in 2009. He also had a spell in county cricket with Yorkshire in 2007.
Younus' announcement comes two days after Test skipper Misbah-ul-Haq, 42, announced that he will also retire from internationals after the Windies Test series.
The veteran duo were also named among Wisden's five Cricketers of the Year last week.
How does Younus rank among Pakistan's all-time great batsmen?
Tests
Runs
Av'ge
HS
100s
Younus Khan
115
9,977
53.06
313
34
Javed Miandad
124
8,832
52.57
280*
23
Inzamam-ul-Haq
119
8,829
50.16
329
25
Mohammad Yousuf
90
7,530
52.29
223
24