Jhulan Goswami: India bowler is leading wicket-taker in women's ODIs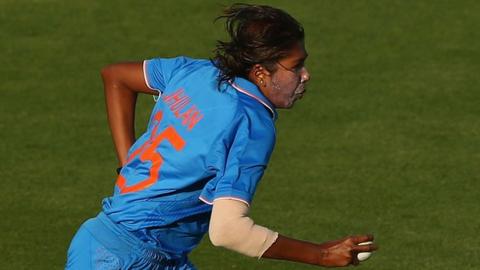 India's Jhulan Goswami has set a new record for wickets taken in women's one-day international cricket.
The 34-year-old, from Bengal, took her 181st wicket in India's win against South Africa, beating Australian Cathryn Fitzpatrick's total.
Goswami made her international debut in 2002 against England and has played in 10 Tests, 153 ODIs and 60 Twenty20s.
The fast bowler was also named the International Cricket Council's women's cricketer of the year in 2007.
The acting president for the Board of Control for Cricket in India (BCCI), CK Khanna, congratulated Goswami, adding: "The BCCI is committed to the promotion of women's cricket which has seen remarkable improvement over the past few years."