Peter Gough: Jersey coach Neil MacRae hopes ex-captain will play on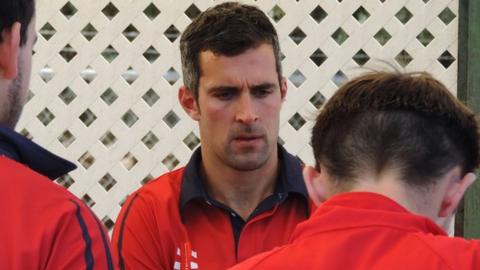 Jersey coach Neil MacRae hopes former skipper Peter Gough will represent the island in World Cricket League Division Five in September.
The 32-year-old stepped down as captain in November and said he would consider his international future.
"We're keen for him to play, as long as he feels fit and fresh enough to do so," MacRae told BBC Radio Jersey.
"He's certainly got a lot of experience, and he's the all-time top run-scorer in World Cricket League."
MacRae continued: "He's certainly, at this stage, planning to play through the Channel Island league from late June, and hopefully be involved in September."
Batsman Gough has twice led Jersey to promotion to Division Four, which will once again be their aim in South Africa this autumn.
His successor as skipper has yet to be named by MacRae, with an announcement expected by "mid-summer".
"It's a big decision for island cricket - not just to captain the side, but also to represent Jersey both at home and abroad," the coach added.
"There's a committee that will mull over the options. It's been discussed already, it'll continue to be discussed and a decision will come in the next couple months."