Weekend cricket results in Northern Ireland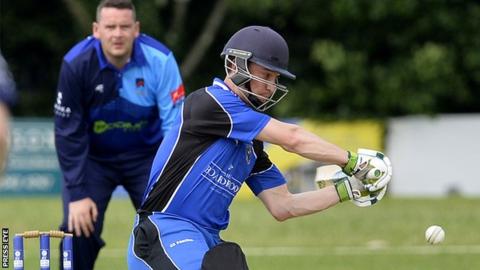 It was a disastrous afternoon on Sunday for North-West teams as all three lost in the second round of Irish Senior Cup so the quarter-finals will be contested by four from the NCU and four from Leinster.
Sunday 18 June results
Irish Senior Cup
Pembroke v Bready
Bready 219-7 (D Rankin 43, J Magee 41)
Pembroke 221-1 (N Cutler 110 no, A Balbirnie 90 no)
Pembroke won by nine wickets
Waringstown v Coleraine
Coleraine 167-7 (D Cooke 71 no)
Waringstown 173-2 (J Hall 91 no, J McCollum 51)
Waringstown won by eight wickets
The Hills v Donemana
Donemana 143 (37.1 overs) (W McClintock 32)
The Hills 144-4
The Hills won by six wickets
NCU Premier League
Carrickfergus v CIYMS
Carrickfergus 226 (P Botha 63)
CIYMS 229-4 (N Jones 112 no)
CIYMS won by six wickets
Although there is one fixture remaining Muckamore clinched Section A of the Lagan Valley Steels Twenty/20 Cup following a four wicket win over Lisburn. They are undefeated after four games with 20 points while CSNI have 10, Instonians 8 and Lisburn 2. The two Section B games were postponed.
CSNI defeated Instonians by four wickets
Muckamore had a four wicket home win against Lisburn
Saturday 17 June results
On Saturday, Challenge Cup holders CSNI were well beaten by CIYMS who join Instonians, Lisburn and Muckamore in the semi-finals.
North-West Cup holders Donemana were 3-2 at one stage but rallied to defeat Coleraine.
The other semi-finalists are Fox Lodge, Bready and Ballyspallen.
Arthur J Gallagher Challenge Cup
CIYMS v CSNI
CSNI 125 (J Kennedy 67)
CIYMS 130-5
CIYMS won by five wickets
Instonians v North Down
Instonians 226 (N Smith 83)
North Down 210
Instonians won by 16 runs
Lisburn v Downpatrick
Lisburn 260 (J Magowan 102, D Simpson 60)
Downpatrick 120
Lisburn won by 140 runs
Woodvale v Muckamore
Muckamore 295-8 (S Gordon 79, J Magowan 74)
Woodvale 122
Muckamore won by 173 runs
Bank of Ireland Senior Cup
Ballyspallen v Strabane
Ballyspallen 191 (G Kennedy 82)
Strabane 158 (A Gillespie 92 not out)
Ballyspallen won by 33 runs
Newbuildings v Bready
Bready 257 (I Samarasooriya 54, D Rankin 51)
Newbuildings 177
Bready won by 80 runs
Ardmore v Fox Lodge
Fox Lodge 221 (S Tshilli 57)
Ardmore 203
Fox Lodge won by 18 runs
Donemana v Coleraine
Donemana 270-9 (W McClintock 125)
Coleraine 220 (D Cooke 41, W McBrine 4-39)
Donemana won by 50 runs