Saturday cricket results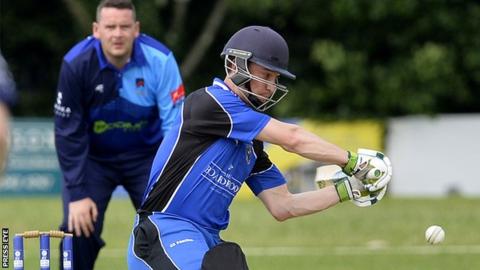 North Down head the NCU Premier League with 20 points after the completion of six fixtures.
They have only lost once but Waringstown and CIYMS, who also won on Saturday, are only four points in arrears.
The champions Instonians are in the penultimate position along with Muckamore, Carrickfergus and CSNI with two successes while bottom team Lisburn have won once.
Saturday 24 June
NCU Premier League
Carrickfergus v Waringstown
Carrickfergus 247 J Holmes 68, A Haggen 53
Waringstown 248-3 J Hall 111, L Nelson 50 no
Waringstown won by seven wickets
Lisburn v CIYMS
Lisburn 64 M McGillivray 5-5
CIYMS 65-1
CIYMS won by nine wickets
Muckamore v CSNI
CSNI 181 G McCarter 53
Muckamore 144 K Rapulana 56
CSNI won by 37 runs
North Down v Instonians
Instonians 208-9 J Shannon 87, N Smith 58 no
North Down 209-4 A Shields 98 no
North Down won by six wickets
After five games Coleraine and Donemana are still undefeated while the other teams are well out of the title chase at the moment.
Long's SuperValu Premier League
Drummond v Donemana
Drummond 192 C Moore 71
Donemana 193-6 A Riddles 58
Donemana won by four wickets
Ardmore v Eglinton
Ardmore 262-6 R Alam 150 no
Eglinton 233 S Thompson 107
Ardmore recorded their second win with a 29-run victory
Fox Lodge v Coleraine
Fox Lodge 228-5 B Allen 102, D Mehaffey 76 no
Coleraine 232-4 G Hume 99 no, G Cooke 80 no
Coleraine won by six wickets
Bready v Brigade
Bready 246-7 A Austin 90
Brigade 247-4 D Barr 74
Brigade's third win in the competition was by six wickets