Charles Perchard: Jersey seam bowler appointed new captain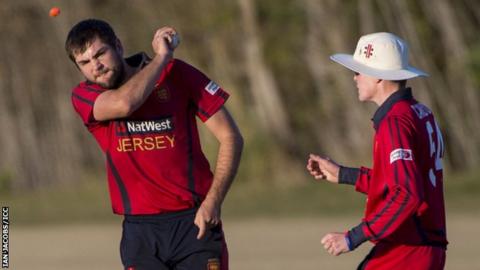 Jersey have appointed seam bowler Charles Perchard as their new captain following Peter Gough's decision last November to step down from the role.
The 24-year-old will lead the team in South Africa in September as they play in World Cricket League Division Five.
All-rounder Anthony Kay has been named vice-captain by coach Neil MacRae.
"I've been working very hard over the past seven or eight years of my career and to receive this title is a great honour," Perchard told BBC Jersey.
"We've had a couple of informal discussions after a few beers, on various occasions, and I knew my name was in the hat - to have got the confirmation was great."
Perchard, known as 'Chuggy', plays his club cricket for Farmers-Caesareans.
Former skipper Gough, 32, has scored more World Cricket League runs than anyone else and had been contemplating international retirement, but MacRae says he will remain a part of the team.
"He's [Gough] in good form, he scored a hundred last weekend and he's very keen to contribute everything he can as a batter in the squad. We're very keen to keep him involved," added MacRae.
"We feel that Chuggy is an outstanding candidate - he's an experienced player for Jersey and has been a consistent performer.
"It was a difficult decision because Anthony could captain the side extremely well too."