Jersey captain Charles Perchard eyes World Cricket League promotions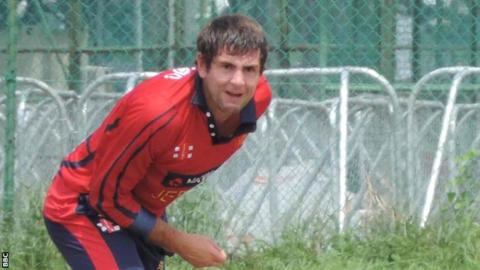 Newly-appointed Jersey skipper Charles Perchard says the team are capable of reaching World Cricket League Three and establishing themselves at that level.
Jersey have never been higher than Division Four, and will compete in the Division Five tournament in September.
"We 100% can get to World League Three and stay there - we just need a bit of luck," Perchard told BBC Radio Jersey.
"We've got a fantastic young team, and over the next few years we're only going to get better."
The World Cricket League has five divisions, with the Netherlands and Scotland among those at the top level, while Singapore and USA feature in Division Three.
Perchard replaced Peter Gough as Jersey captain on Wednesday and will lead the side in next month's inter-insular match against Guernsey.
"There's certainly some big boots to fill. Ryan Driver, Matt Hague and Gough were all fantastic players for the island and great leaders, but I'm confident I can emulate their success," added Perchard.
"The inter-insular is another key game. If we can win both that and the Division Five tournament in South Africa, that would be a great start.
"We were unlucky in Los Angeles to get relegated [from WCL4], but there's no reason why we can't get to World Cricket League Three."