Guernsey hope to have Leicestershire's Will Fazakerley for World Cricket League
Last updated on .From the section Cricket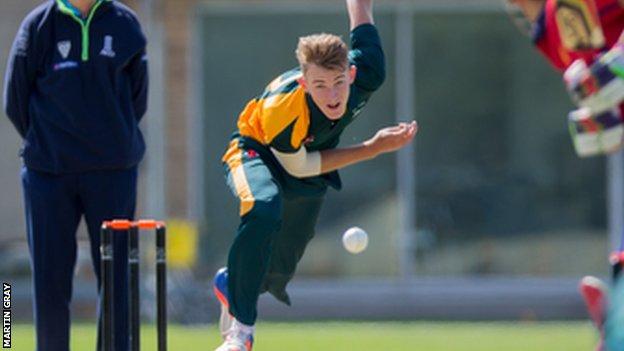 Guernsey vice-captain Josh Butler says they are awaiting permission from Leicestershire to allow Will Fazakerley to play in World Cricket League Five.
Seam bowler Fazakerley, 19, made his first-class debut earlier this month and has been named in Guernsey's squad.
"We probably won't know for another couple weeks yet," Butler told BBC Radio Guernsey.
"Being a contracted player for a professional side he's controlled by them, so it's a tough one."
Butler continued: "He's a key player for us, so we're hoping he's available."
Guernsey will come up against Italy, Cayman Islands and Qatar in the group stages of the tournament in September, which will take place in South Africa.
Their 14-man squad, led by director of cricket Ashley Wright, includes skipper Jamie Nussbaumer and Matt Stokes, as well as World Cricket League debutants Matt Breban, Dec Martel, and Ben Fitchet.
"A lot of our players are very experienced, but they're all still very young as well," added Butler. "The main aim has to be promotion for us."