Weekend club cricket results in NI
Last updated on .From the section Cricket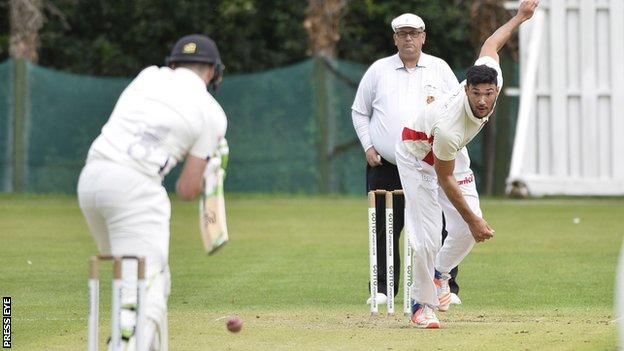 Waringstown and North Down jointly head the NCU Premier League table and CIYMS are four points in arrears following their home defeat to Muckamore.
The Moylena team are now in the penultimate place along with CSNI and the holders Instonians while Lisburn are at the bottom.
Saturday 22 July
NCU Premier League
CIYMS v Muckamore
Muckamore 151-8 R Haire 37
CIYMS Duckworth/Lewis target 164 from 41 overs
CIYMS 101
Muckamore won by 62 runs
Instonians v Waringstown - 36 overs
Instonians 177-8 N Smith 52, J McClurkin 40
Waringstown D/L target 198 from 36 overs
Waringstown 204-6 L Nelson 66, A Dennison 45
Waringstown had a last ball four wicket win
Lisburn v Carrickfergus
Carrickfergus 179-5 (44.3 overs) I Burton 57
Lisburn D/L target 196 from 39 overs
Lisburn 153 G Halliday 46, G Browne 35, P Botha 3-33
Carrickfergus won by 42 runs
North Down v CSNI
CSNI 135-5 (41 overs)
North Down D/L target 149 from 34 overs
North Down 149-6
North Down won by four wickets
Long's SuperValu NW Premier League
Donemana, Coleraine and Brigade, the main contenders for the title, all achieved victories but the holders Donemana can narrow the gap on Coleraine at the top of the table with a home win against Bready on Sunday.
Undefeated Donemana still have another game in hand.
Brigade v Fox Lodge
Fox Lodge 100 C Tshiki 43, J Thompson 5-21
Brigade 101-3
Brigade won by seven wickets
Coleraine v Ardmore
Coleraine 174-3 after 44.3 overs S Campbell 78 no
Ardmore D/L target 161 from 28 overs
Ardmore 118 R Alam 61 no, G Cooke 3-22
Coleraine won by 42 runs
Eglinton v Donemana
Eglinton 51 W McClintock 3-18
Donemana 52-2
Donemana won by eight wickets
Drummond v Bready postponed.