Weekend club cricket results in NI
Last updated on .From the section Cricket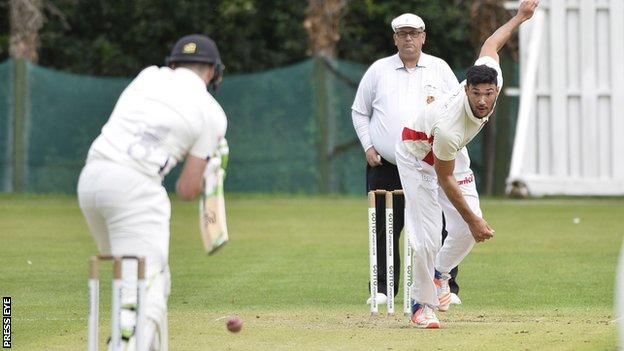 James Hall's undefeated 101, which included nine sixes, secured him the Man of the Match award when Waringstown won the Lagan Valley Steels Twenty/20 final at The Lawn.
Lagan Valley Steels Twenty/20 final
Waringstown v North Down
Waringstown 194-4 J Hall 101 no, G Thompson 40
North Down 168-8 R Pretorius 53
Waringstown won by 26 runs
Muckamore move above the NCU Premier League title holders Instonians, who now lie in the penultimate position with CSNI. Lisburn are firmly at the bottom of the table.
NCU Premier League
Instonians v Muckamore
Muckamore 270 for seven I Hussain 145
Instonians 173
Muckamore won by 97 runs
Champions Donemana are now closing in on the Long's SuperValu Premier League leaders Coleraine and still have a game in hand.
Long's SuperValu Premier League
Donemana v Bready
Donemana 150 W McClintock 79,D Rankin 4-3
Bready 109 D Rankin 35, Jnr McBrine 5-20
Donemana won by 41 runs
Saturday 22 July
NCU Premier League
CIYMS v Muckamore
Muckamore 151-8 R Haire 37
CIYMS Duckworth/Lewis target 164 from 41 overs
CIYMS 101
Muckamore won by 62 runs
Instonians v Waringstown - 36 overs
Instonians 177-8 N Smith 52, J McClurkin 40
Waringstown D/L target 198 from 36 overs
Waringstown 204-6 L Nelson 66, A Dennison 45
Waringstown had a last ball four wicket win
Lisburn v Carrickfergus
Carrickfergus 179-5 (44.3 overs) I Burton 57
Lisburn D/L target 196 from 39 overs
Lisburn 153 G Halliday 46, G Browne 35, P Botha 3-33
Carrickfergus won by 42 runs
North Down v CSNI
CSNI 135-5 (41 overs)
North Down D/L target 149 from 34 overs
North Down 149-6
North Down won by four wickets
Long's SuperValu NW Premier League
Brigade v Fox Lodge
Fox Lodge 100 C Tshiki 43, J Thompson 5-21
Brigade 101-3
Brigade won by seven wickets
Coleraine v Ardmore
Coleraine 174-3 after 44.3 overs S Campbell 78 no
Ardmore D/L target 161 from 28 overs
Ardmore 118 R Alam 61 no, G Cooke 3-22
Coleraine won by 42 runs
Eglinton v Donemana
Eglinton 51 W McClintock 3-18
Donemana 52-2
Donemana won by eight wickets
Drummond v Bready postponed.