Donemana and CIYMS triumph in finals on Saturday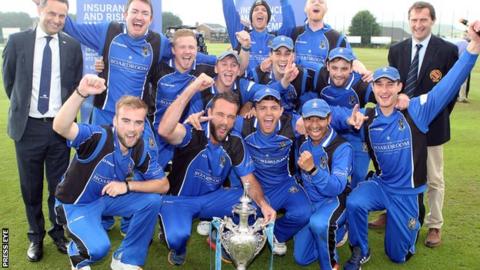 Seven wickets for 13 was the spectacular bowling analysis of Junior McBrine when Donemana clinched the Bank of Ireland NW Senior Cup for the sixth consecutive season with a 335-run victory over Ballyspallen at Brigade.
After being put in to bat Donemana gained a 97-run first innings advantage and with a second innings of 226 Ballyspallen were set the almost impossible task of attaining 335 for victory.
Bank of Ireland NW Senior Cup final
Ballyspallen v Donemana
Donemana (first innings) 226-8 R L Dougherty 63, A Riddles 57, S McCloskey 2-35; (second innings) 237 (49.5 overs) I Butt 69, G McClintock 41, M Averill 4-34
Ballyspallen (first innings) 129 (42.2 overs) M Averill 32, J McGonigle 4-21, Jnr McBrine 3-22; (second innings) 101 (25.2 overs) S Kennedy 36, Jnr McBrine 7-13, J McGonigle 2-10
Donemana won by 233 runs
Nigel Jones, who flew in from Jersey on Saturday morning, was the A J Gallagher Challenge Cup final Man of the Match when CIYMS defeated Instonians by six wickets at Comber.
A fourth wicket partnership of 127 by captain Jones and Ryan Hunter set up the victory with the former hitting 10 boundaries in his 80. Hunter had one six and 11 boundaries in his undefeated 65.
A J Gallagher NCU Challenge Cup final
CIYMS v Instonians (at Comber)
Instonians 208 (48.3 overs) N Smith 68, J Shannon 36, J Mulder 3-51, N Jones 2-28
CIYMS 209-4 (44.4 overs) N Jones 80, R Hunter 65 no
CIYMS won by six wickets
Waringstown are now the sole NCU Premier League leaders with 28 points while North Down are now four points in arrears after their one-run D/L defeat at Carrickfergus.
NCU Premier League
Carrickfergus v North Down
North Down 230 (49.5 overs) N Burns 66, R Pretorius 42, D Poulton 5-57
Carrickfergus 96-3 (23.3 overs) J Burton 27 no
RSP - Carrickfergus won by one run (D/L)
CSNI v Waringstown
CSNI 238-6 A Cowdenbeath 65, J Kennedy 49, M Amjad 50
Waringstown D/L target 226 from 44 overs - 228-6 (43.1 overs) G Thompson 54 no, S Shah 54
Waringstown won by four wickets
Muckamore v Lisburn
Muckamore 199 S Stevenson 69
Lisburn 104-7 J Magowan 36, I Hussain 3-19
RSP - Muckamore won by 55 runs (D/L)