Graham Onions: Durham seamer keen to stay but awaiting contract offer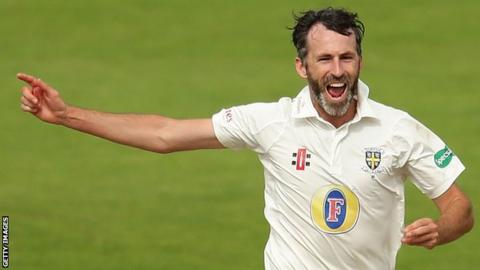 Graham Onions wants to end his career with Durham but says he is yet to be offered a contract to remain with the county beyond this season.
Onions, 34, took his 600th first-class wicket on day two of Durham's ongoing Championship match against Derbyshire.
"The last thing I want to do is leave. Fingers crossed, it won't come to that," Onions told BBC Newcastle.
"There's been nothing offered, which doesn't give me a great deal of hope," added the ex-England seamer.
"I just want to bowl and take wickets. Hopefully, for at least another couple of years, that's at Durham. If it's not, then I'm going to have to potentially move somewhere else, which I wouldn't want to do."
Onions claimed 4-44 as Derbyshire were dismissed for 164 at Chester-le-Street, with the wicket of Hardus Viljoen bringing up Onions' personal landmark.
"It's a proud moment for me," he said. "I'm not a massive person for looking at milestones, but when you take them you realise you've been around the game for a long time.
"A lot of blood, sweat and tears have gone into that."