Derbyshire: Kim Barnett extends contract to remain part of backroom staff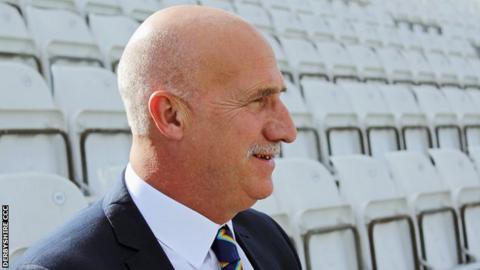 Kim Barnett has extended his contract with Derbyshire and will become cricket adviser for the 2018 season.
Barnett re-joined at the end of the 2016 season as director of cricket, working with coach Steve Stubbings and captain Billy Godleman, and will retain the same role but with the new title.
He has overseen a new coaching model and player recruitment, and appointed specialist T20 coach John Wright.
"Kim has done a tremendous job," said chairman Ian Morgan.
"He was influential in the recruitment of a number of senior players and coaches, and has provided valuable support to the senior cricket management team."
Derbyshire reached the quarter-finals of the NatWest T20 Blast this season for the first time since 2005.
Barnett, who played four Tests for England, said: "I still see my role as primarily off the field, providing direction and strategy.
"We are building a balanced squad, which contains the talent and experience needed to be successful across all forms, and I'm excited by what the future may bring."