England v West Indies: Ashes questions and Blowers' farewell

By Jonathan Agnew
BBC cricket correspondent
Last updated on .From the section Cricket
After England hammered West Indies by an innings in the first Test at Edgbaston, I wrote that the series would not be any sort of Ashes preparation for Joe Root's men.
That did not turn out to be the case, mainly because of what we saw in the remarkable second Test at Headingley.
That stunning Windies win set up the decider at Lord's and, even though they reverted to type and were undone in conditions that are not familiar to them, England should be thanking the men from the Caribbean for providing a much more worthwhile exercise.
Yet the low-scoring nature of that third Test, coupled with what we have seen over the entire summer, means England will arrive in Australia with no certainty over the competence of three members of their top five.
Whoever England name in their Ashes squad at the end of September - and coach Trevor Bayliss has said there is unlikely to be a face that we have not seen in the past 12 or 18 months - batting will be the most pressing issue.
The home side were chasing only 107 for victory on Saturday and, in that pursuit, opener Mark Stoneman did himself a lot of good.
In those situations it is easy for a batsman to think he has nothing to gain, but Stoneman was positive, not necessarily in the strokes he played, but in his mindset.
We perhaps learnt more about the the Surrey left-hander - the 12th man to partner Alastair Cook at the top of the order in the space of five years - in his unbeaten 40 at at Lord's than we did in his previous four Test innings.
Stoneman shared an unbroken stand of 72 with Tom Westley, who made 44 not out to reach double figures for the first time in the series. Still, it is Westley's place that I doubt the most.
Put simply, I do not believe he is good enough to bat at number three.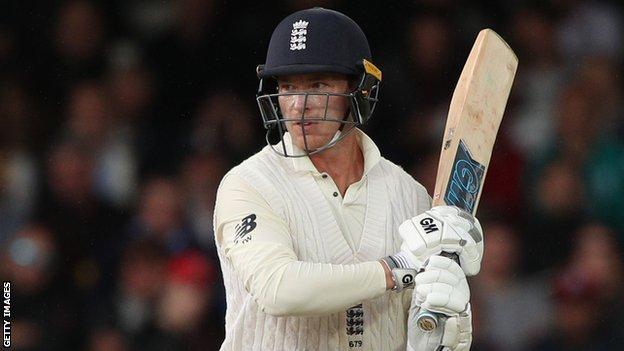 The right-hander made a half-century on debut against South Africa, but the Proteas picked up on a technical flaw and so did West Indies. You can be sure that Australia will do exactly the same.
In his short Test career we have seen that, when the ball is pitched up, drives can result in an edge, or he plays slightly across it to be lbw.
Westley has played five matches now and averages 24. Is that enough for England to make a decision on him?
Bayliss has said in the past that he would rather give a player one match too many than too few, but that has led to England hanging on to players, particularly batsmen, for too long.
It is not always cruel to drop a player. Sometimes it can be the best thing to say: "This is what you need to improve on. Go away and do it, then come back."
Westley does have the opportunity to score runs in a title-chasing Essex side but, of the XI that played at Lord's, it will be his place in the Ashes squad that causes most debate.
England's Ashes dilemmas
No matter who England pick, it will be the batting that will be talked about from now - through the three warm-up games, all the way to the first Test at the Gabba.
Should Root be moved to number three? Would that mean that Dawid Malan moves up? If they pick Alex Hales, where does he bat? Will they return to Haseeb Hameed, Keaton Jennings or Gary Ballance?
Can we evaluate if England are in a better to place to defend the Ashes now than they were at the beginning of the summer?
Until the squad is named, that is difficult to answer, not only because of the batting, but also the make-up of the pace attack.
I will be looking out for the inclusion of Mark Wood because, if he is not fit, I will worry about the lack of an out-and-out fast bowler.
England's top five this summer

Matches

Runs

Average

Alastair Cook

7

572

44.00

Joe Root

7

729

60.75

Dawid Malan

5

189

23.62

Tom Westley

5

193

24.12

Keaton Jennings

4

127

15.87

Mark Stoneman

3

120

30.00

Jonny Bairstow

2

122

30.50

Gary Ballance

2

85

21.25
The likes of Toby Roland-Jones and Jake Ball have done nicely, but they might not be the type to get the ball whistling past the head of a batsman. Of England's current crop of pacemen, only Wood really has that sort of aggression and hostility.
Even if Wood does make the trip, further questions about England's pace bowling could centre on Stuart Broad.
I am not for one second doubting Broad's place in the side, but we will perhaps be wondering if he can get everything to click into place for that first Test at the Gabba on 23 November.
The Nottinghamshire seamer has had a decent enough summer - 20 wickets at an average of 33.90, as well as lot of bad luck when it comes to how many catches he has seen dropped off his bowling.
But he has to get his outswinger, a crucial weapon in almost all conditions, back in his armoury. At the moment, his stock delivery swings in to right-handed batsmen.
Broad has spent a lot of time bowling round the wicket to left-handers, which necessitates a more open action, and therefore makes it harder to swing the ball away from right-handers.
I want to see him putting in the work between now and the Ashes, getting that action absolutely right.
Farewell to a 'tutti frutti ice cream'
We have been building up to saying goodbye to my Test Match Special colleague Henry Blofeld all summer, but that did not take any of the sadness or emotion away from his Lord's farewell.
It was extraordinary that a mere commentator can walk around a ground of 30,000 people and have everyone, including the players, on their feet applauding.
Blowers is completely unique. He excelled in making an event of every delivery. Yes, he is famous for talking about pigeons, buses and cranes, but he has always captured the drama of the bowler running in and letting go of the ball. That, really, is the essence of cricket commentary.
If you look back on some of the most famous TMS voices, John Arlott was very straight, poetic, very descriptive and with a wonderful choice of phrase.
Brian Johnston was very personable, conversational and opened the game up to give more contact with the listener.
They broke the mould, just like Henry has done. No one before him had the guts or the skill to be able to move it on in the way that he has done.
The colour that he brings to cricket commentary was almost perfectly encapsulated by his lap of honour. There he was, at the home of cricket, strolling around the outfield dressed like a tutti frutti ice cream.
He ended his TMS career being exactly what he is: a complete showman.
Jonathan Agnew was speaking to BBC Sport's Stephan Shemilt.