Ashley Giles: Warwickshire boss says hurting Bears must aim to emulate Essex
Last updated on .From the section Cricket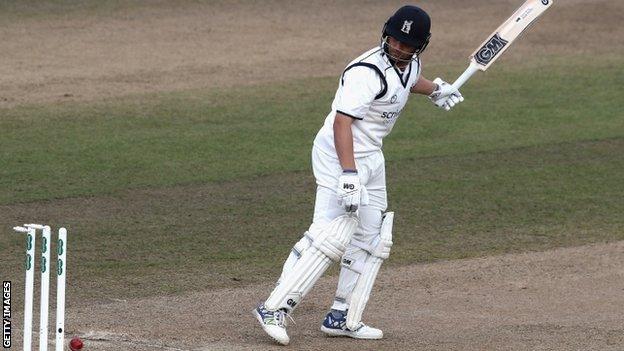 Warwickshire boss Ashley Giles says that, once the club have dealt with the "hurt" of being relegated, their rebuilding job must aim at trying to emulate new county champions Essex.
Somerset's win over Lancashire, plus Yorkshire and Middlesex draws, put them 49 points adrift with two games left.
"Right now, we are hurting badly," Bears sport director Giles told BBC WM.
"It's the first time I've been involved in a relegation as part of a cricket management team. It really hurts the whole dressing room and management.
"It will take a while to get over it but ultimately, over a season, stats don't lie and ours make pretty poor reading."
The Bears' second relegation from the top flight
Having started out in Division Two when the County Championship was split into two tiers in 2000, this is the only second time Warwickshire have been relegated.
He has already addressed the issue of an ageing dressing room, something he feared when he returned to the club from Lancashire, who responded well to his exit by becoming Essex's only challengers for the title.
Although major changes have been made over the course of the summer, Giles has warned that the rebuilding process at Edgbaston may have to be given time - starting with who captains them next season.
Ian Bell stepped down as captain in August after being left out of the T20 team, since when Jonathan Trott has been leading the side in Championship cricket.
"We are certainly going to go through some change and perhaps the best place to do that is Division Two," added Giles.
"The important thing is how we come back. Whether that's straight away or not, we have to make sure that, when we do, we are absolutely ready to challenge for that Division One title as Essex have.
"With two of eight teams going down now, 25% of the division gets relegated. At some point, every team will have to take their medicine.
"But there are some encouraging signs for next year. Our team was transformed during the T20 and now we need to do something similar in red-ball cricket."
What exactly went wrong?
"Often you have years where one area is not firing," admitted Giles. "But almost every area this year has been pretty poor.
"We've only taken 20 wickets in a game once. And, with the bat, while Jonathan Trott is averaging over 40, most of our top order batsmen are in the early-to-mid 20s.
"It's not a case of one or the other, it's both. We have just not got it right in Championship cricket."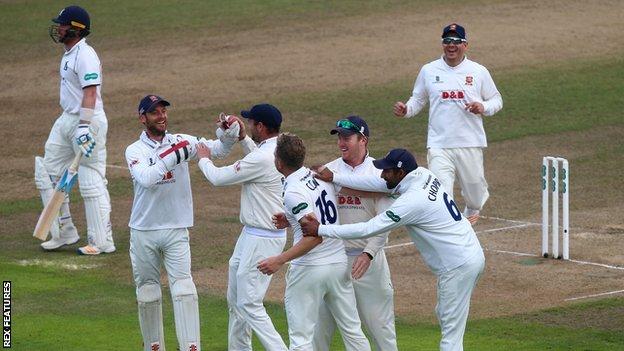 Trott has so far made 867 runs at 40.32 in the Championship. By comparison, Bell, who took over as Bears captain in April 2016 after being dropped by England, has had a second successive summer to forget.
He started this season still looking to resurrect his England Test career but has scored just 454 runs in 11 matches at an average of 22.70 - lower even than his former England team-mate James Anderson.
Over the past decade, the statistics are there to show that the Bears' lower order - with regular contributors of the calibre of Rikki Clarke, Keith Barker, Tim Ambrose and Jeetan Patel - score as many runs as the top order.
Despite Barker's six half-centuries in his haul of 536 runs, Patel's 483 and Ambrose's 452, the feared Bears tail have this time proved powerless to prevent their eight defeats in 12 games - five of them by an innings.
The turnover in staff at Edgbaston
Giles has already pointed to the fact that change is afoot at Edgbaston under him and first-team coach Jim Troughton, no more so than for former captain Bell, as he comes to terms with his decision to step down as skipper over the winter.
Starting with former skipper Varun Chopra's return to Essex a year ago, six Warwickshire players will have left the staff by this season's end.
Laurie Evans was signed last winter by Sussex, another ex-captain Ian Westwood retired in mid-summer, Rikki Clarke completed his planned return to Surrey early, while Ateeq Javid will move to Leicestershire and Ireland international William Porterfield has also moved on.
Coming in, on top of the delayed arrival of Olly Stone, Somerset batsman Adam Hose was signed in mid-season, Surrey's Dom Sibley swapped places with Clarke, the signing of Yorkshire all-rounder Will Rhodes is already in place, and both Grant Thornton and Australian Ryan Sidebottom were recruited from Birmingham League cricket.
They have already successfully infused a succession of youngsters - spinner Sunny Singh and batsman Matt Lamb into the Championship team, and Ed Pollock and Aaron Thomason into the Bears side who finished runners-up in the T20 Blast.