World Cricket League: Jersey coach Neil MacRae targets division four title
Last updated on .From the section Cricket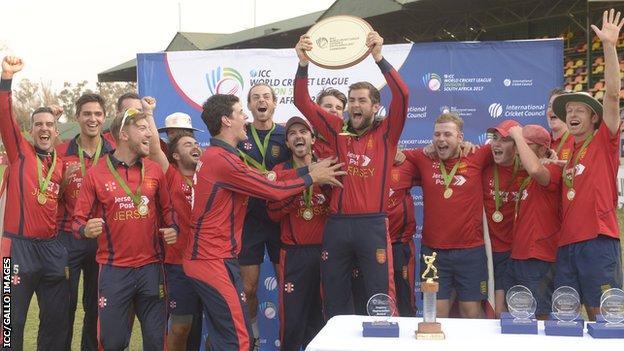 Jersey coach Neil MacRae says his team is capable of winning World Cricket League Division Four next year after gaining promotion from the tier below.
However, MacRae's side have been relegated on each of their past three tournaments at division four level.
"This side is still young but they've got a lot of tournament experience now," he told BBC Radio Jersey.
"I think all-round we've had a lot of top performances. We've got a very strong group and that group can continue to go on and win division four as well, when we move up.
"I think the momentum has been building for a couple of years."
Jersey will join Vanuatu, Malaysia, Denmark, Bermuda and Uganda in division four in 2018, which is part of the pathway towards qualification for the 2023 World Cup in India.
MacRae has singled out 16-year-old Harrison Carlyon as one to watch going forward after his 38 runs from 56 balls in the 120-run win over Vanuatu in the final in Johannesburg.
"I think we've had a glimpse of the future. We saw Jonty Jenner emerge a couple of years ago and burst onto the scene, and I think you've seen a first glimpse of what Harrison can do."