Scotland cricket captain Kyle Coetzer reveals funding gap concern
By Luke Norman
BBC Sport Scotland
Last updated on .From the section Cricket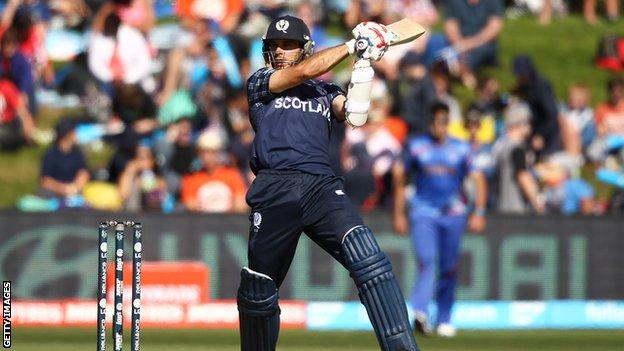 Scotland captain Kyle Coetzer designs bats and coaches kids to ensure he can continue to play at the highest level.
The former county cricketer knows he would be "looking for a job" were it not for his additional income streams.
Under Coetzer's leadership, Scotland beat Sri Lanka and Zimbabwe this summer and head to Papua New Guinea in October.
"Guys need to be able to make a living out the game, it's concerning," he told BBC Scotland.
"It's all about finding enough funds to stay in the game."
Scotland's top cricketers are on central contracts but the level of funding is often not enough, according to Coetzer.
"It almost seems to be a stop-gap at the moment," Coetzer said of the cash that comes from the International Cricket Council (ICC) and sponsorship Cricket Scotland raises.
"We lost a handful of players in the last couple of years, Preston Mommsen being the biggest one."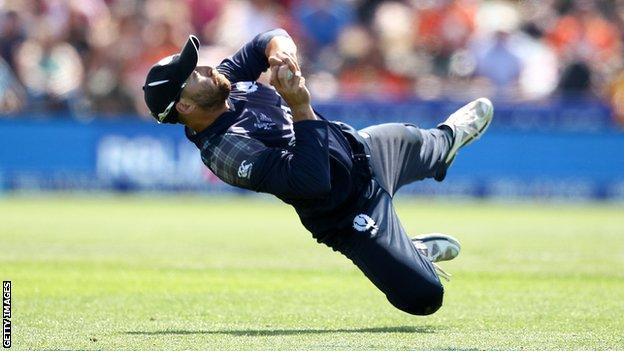 Coetzer's predecessor as captain, Mommsen left the game in November 2016 to take up a job in the corporate world. He was 29 years old.
"If I didn't have at least two different avenues of income, I think I would be looking for a job elsewhere - I have got a young family to look after," Coetzer added.
"I am not saying it is the end of the world, I am still very lucky to be doing what I do, but it has its difficulties."
Coetzer, who was released by Durham in 2015 after 11 years as a professional, runs Zeus Cricket, an equipment company, with his older brother Shaun. The company produces a wide range of cricket equipment.
"I drew the initial designs in a hotel in Dubai when I was playing and it has gone on from there," he said.
The 33-year-old is also the club pro for Benwell Hill Cricket Club and is the player-coach for the Caledonian Highlanders in the Cricket Scotland Pro Series.
Not that any of this diversification is having an adverse effect on the Scotland skipper's performances.
"I have felt in brilliant nick the last two-three years, to be honest," said the man who made three centuries and a half-century for Scotland this summer. "I feel refreshed by it all. Playing in the county circuit for as long as I did, and then the winters away, was starting to take its toll on me but I have found a good place. I am playing as well as I have ever done."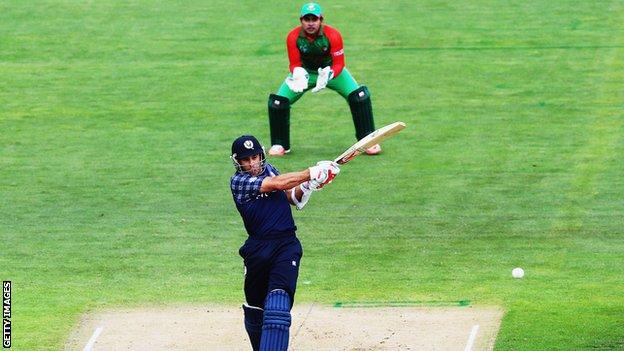 It does though makes the relative lack of international cricket for Scotland even more galling.
"We had 10 days of international cricket this summer, which is ridiculous really," he said. "The guys are crying out for some international cricket."
After a 77-day wait following the the second one day international against Zimbabwe on 17 June in Edinburgh, Scotland line up against Papua New Guinea on 1 October in the ICC World Cricket League.
A further source of frustration is the limbo the team find themselves in following Ireland and Afghanistan's elevation to full Test status, announced earlier this year.
"It's as if the goalposts have changed," Coetzer said. "The whole idea of the ICC World Cricket League Championship was to get yourself into the top 12-13 nations and then you would be involved in various other ODI competitions, but with those two nations raised to full member status, it almost nullifies the competition."
It leaves Coetzer and his teammates unsure as to quite what they will be playing for in the southern hemisphere next month. One thing that is certain is the importance of the games recently announced versus Pakistan and England in 2018 in Scotland.
"These are the games we really need," he said. "We want to be the next cab off the rank in terms of what Ireland and Afghanistan have done."