Essex win County Championship: Title win 'start of more to come'
By Adam Williams
BBC Sport
Last updated on .From the section Cricket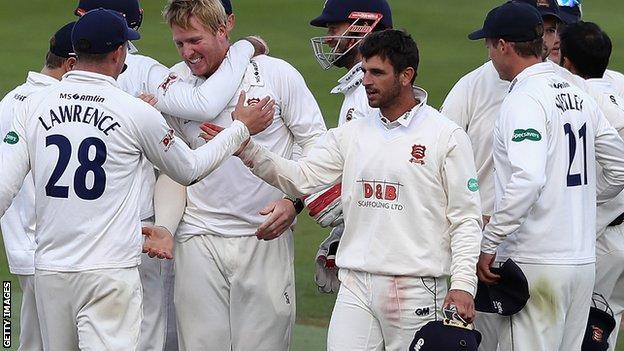 "The end of the beginning." Those were the words Essex chief executive Derek Bowden used to sum up the county's first Championship title for a quarter of a century.
The English domestic game has gone through many changes since 1992 when Essex last lifted the Lord's Taverners Trophy, but much of their success in 2017 has been built around a home-grown product.
Eight of the side which beat Warwickshire by an innings at Edgbaston on Thursday have come through the county's age group system.
But, for the first time in its history, an Essex side not featuring Graham Gooch has secured the County Championship.
Tipped as potential relegation candidates at the start of the season after winning Division Two in 2016, Essex's run to the title came courtesy of fine collective performances as well as stand-out achievements from players such as Jamie Porter, Simon Harmer and Nick Browne.
Throw in the presence of former England captain Alastair Cook for most of the season and the return of former players Varun Chopra and Adam Wheater, top flight and international experience has helped take Essex to the next level.
"We genuinely believe one team, one dream," Bowden said. "It's not just the players on the field, but the people behind the scenes - the ground staff, coaching staff, commercial staff.
"There was a strategy and plan for this moment. It has worked."
So who was key in helping a side who were Division Two underachievers become the best in the country in a little under two seasons?
Ten Doeschate traces success back to second tier
The dominance of Ryan ten Doeschate's side this season has been illustrated by the fact they have secured top spot with two games to spare and have won eight of their 12 matches, four more than anyone else to date in Division One.
"It's a hard feeling to describe, it's something I've been thinking about literally every night I've gone to bed about how we can get this job done," Ten Doeschate told BBC Essex.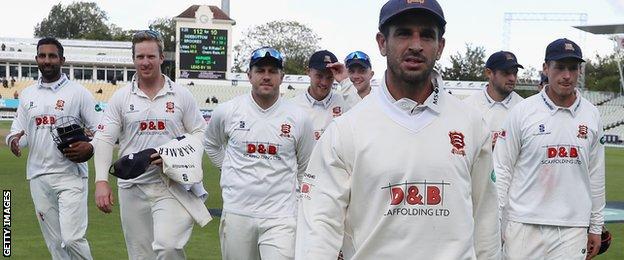 "The boys just kept delivering. It's been an amazing season and it's been so worth the effort we've all put in."
Ten Doeschate tracks the county's achievement in 2017 back to the start of 2016 when they started to build momentum in four-day performances.
"Literally from game to game, we feel like we've played better cricket since beating Gloucestershire at the start of last season," he said.
"There's a belief that goes back that far and we've just transferred it to a division higher."
Porter leads from the front
Among those whose performances this season will have grabbed headlines have been Essex fast bowler Jamie Porter.
The 24-year-old, who almost gave up the game early in 2014, has claimed 64 Division One scalps in 12 games to date at an average of 17.86, one more than spinner Simon Harmer at 20.19.
But the West Ham supporter, who was almost lost to the world of recruitment when he thought a professional career might be beyond him, is happy to share the plaudits.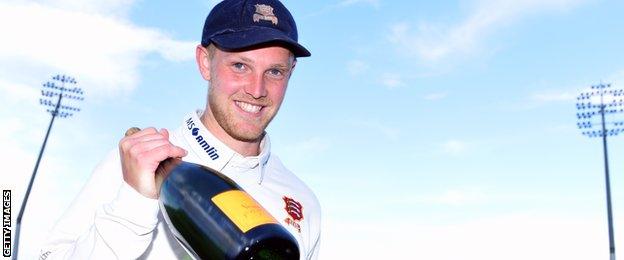 "As a side we've been very good, everyone's contributed," he told BBC Essex. "Everyone who's played has played a part and the coaching staff have been unbelievable.
"We feel we've had every base covered with our bowling attack.
"We've gone to grounds in the past couple of games where if they've produced a green seamer, we've got the bowlers for that or if they produce a turning pitch, we've got the best spinner in the country.
"I always looked up to David Masters when I played with him. I wanted to become the leader of the attack and be the guy that the skipper throws the ball to when he needs a wicket.
"That's what I'm trying to be - lead from the front, take responsibility and do my part for the team."
South African Harmer, who was originally recruited in the winter on a one-year Kolpak contract, was quickly secured on a two-year extension in June once his performances started propelling Essex to the summit.
Will Silverwood's success open door to England job?
Head coach Chris Silverwood has overseen Essex's march to the title with a cool persona.
His steady stewardship has led many to tip the former Yorkshire and Middlesex bowler, who played six Tests for his country, to be England's next bowling coach.
"It would be somewhat disappointing if Chris wasn't on the radar of England," Essex chairman John Faragher told BBC Radio 5 live sports extra. "He is a talented coach.
"He's enjoying time his here and has done a great job."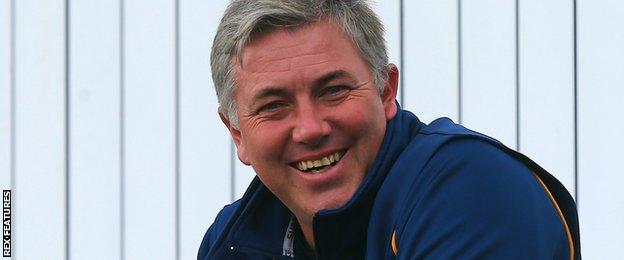 In the same season as Silverwood's coaching stock has risen, Tom Westley has made an England Test debut and fast bowler Porter has been tipped as a possible Ashes squad member.
"Chris has brought lot of thought. He is an intelligent man as well as a coach," chief executive Bowden added.
"He has thought about the squad, his coaching staff, the scouting network. He isn't just a coach. He is far more intelligent than that."
Despite potential advances from the national team for the crop of their playing and coaching talent, Faragher believes Essex will continue to thrive as a result.
"We're ambitious," he said. "It's good for us to see a player represent England, and if Chris goes on to work with England then so be it."
Porter, meanwhile, is staying level-headed about talk of a place on the plane to Australia in October.
"I don't expect to be on that Ashes tour," he said. "If I am, that'll be a dream come true and I'll try my hardest to take that opportunity. I'm just going to take everything as it comes."