Adam Hollioake on staying in Afghanistan after bomb attack
By Mandeep Sanghera
BBC Sport
Last updated on .From the section Cricket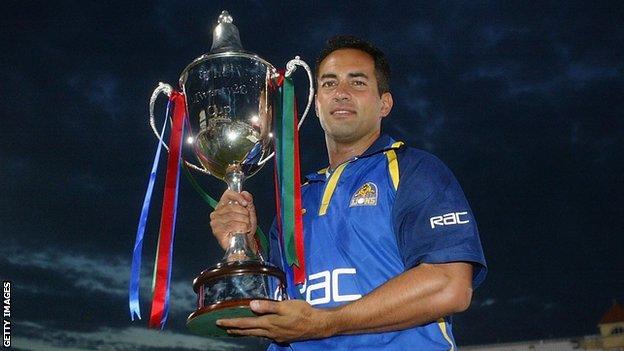 When Adam Hollioake was faced with the choice of staying in Afghanistan after being caught up in a suicide bombing or going back home, the former England cricketer opted to stay.
He is in the country starting out as a coach and, during a two-week stint, was caught up in a terrorist attack which had some overseas counterparts deciding to head for the airport.
At least three people were killed and five wounded in the blast at the Kabul International Cricket Stadium last Wednesday.
Hollioake, along with a few others, has chosen to remain in Afghanistan, who were recently awarded Test status and where he says the passion for the game is "on another level".
"I wanted to stay until the job was done, I don't like walking out on anything," the 46-year-old former Surrey and Essex all-rounder told BBC Sport.
"This isn't a Hollywood movie, this is their everyday life. I wanted to give those people the respect that they are due and that they have afforded me and not make an emotional decision."
'I could feel the vibrations go through my body'
Not letting emotion cloud his thinking could not have been easy after being so close to a terrorist attack.
"There was a game going on between my team and another team that Andy Moles, another former English county player, was coaching," recalled Hollioake.
"The protocol is that we have three stages of security. They have to get through the first stage, which this probably was, about 100m from the ground; then there is the second stage, which is about 50m from the ground, and the final stage is about 15-20m from the ground.
"The gentleman was caught at the first checkpoint and, on being caught, he detonated his device and, unfortunately, several of our security and some members of the public were killed."
Hollioake - who praised the security guards and said his thoughts were with the families of those who had lost their lives - was about 100m away "sitting in the safety of the changing room" but "could feel the vibrations go through my body".
Despite some foreign coaches choosing to leave, he was one of those that opted to stay and continue as coach of a team competing in a Twenty20 competition in Afghanistan.
"I wanted to make an educated decision," said Hollioake. "I needed to take all the information into account.
"I did that and the decision I made to stay was based on the fact that I was going to be safe."
Hollioake played four Tests and 35 one-day internationals for England and captained them to the 1997 Sharjah Cup.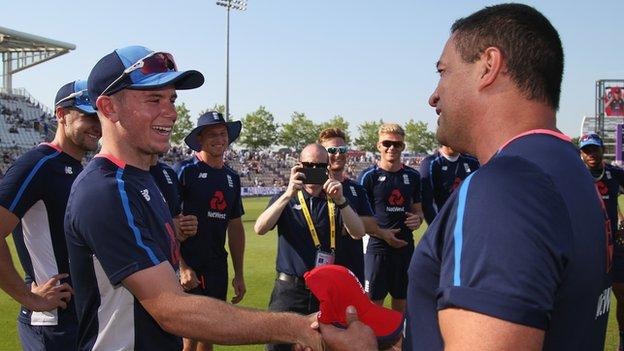 He captained Surrey to nine domestic trophies and, after retiring, had a brief excursion into the world of mixed martial arts.
These days he normally lives in Australia - the country of his birth - but he is currently in charge of the Boost Defenders team in the Afghan Super League and has guided them to the semi-finals.
"I'm looking to further my career in coaching. I've recently been talking with the England and Wales Cricket board and have been offered a contract with the England Lions this winter for their tour to Australia, which coincides with the Ashes," he said.
"I just have to take each day as it comes and try to keep improving as a coach. I'm starting at the bottom of the ladder and I've got to work myself up and prove myself as a coach.
"This is an opportunity out here to do so. Hopefully, every time I coach is an opportunity to prove myself."
Apart from the "vivid" memory of the attack, the things that stand out for him are "the passion of the Afghan people, how much they have welcomed me here and just how much they love their cricket".
"You come to this part of the world and you expect it, but these guys are another level. It is an exciting time for them," said Hollioake.
"They have just got Test match status and the buzz and hype around cricket in Afghanistan is off the scale. They're the memories I will take with me.
"The fact that they're still managing to play cricket with these conditions around them shows how passionate they are."