Jamie Nussbaumer: Guernsey bowler steps down as captain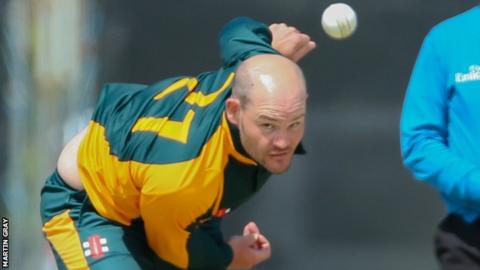 Guernsey seamer Jamie Nussbaumer has stepped down as captain of the island side after four-and-a-half years.
The 30-year-old skippered the team as they were relegated from World Cricket League Division Five this month.
He led Guernsey to promotion from division six in 2015 and Inter-insular victory over Jersey in the same summer.
"It's getting to the point where I may have to be rested for the odd game and the captain should always be on the field," Nussbaumer told BBC Sport.
"I'm getting married next summer so that'll be time-consuming, and I felt I should put more time back info family."
Nussbaumer will continue to play for Guernsey and is confident that there is a capable successor for the captaincy in the squad.
"I think Josh Butler's probably the favourite. We've groomed him for it over the summer, he's captained Sussex League games - there's almost been a succession plan in place," he added.
"There's a core of young guys and it's their time to take team forward."