Derbyshire v Kent: Chesterfield will only be used in 'core summer months'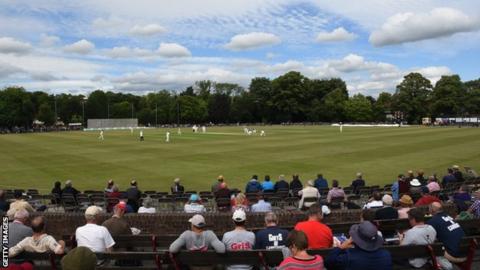 Derbyshire will only use Chesterfield as an out-ground in the "core summer months" in future seasons after this week's washout against Kent.
A waterlogged outfield at Queen's Park meant there was no play on any of the four days in the Division Two match.
Kent have since contacted the England and Wales Cricket Board (ECB).
"The grounds team did everything within their power to try and get the game on," said Derbyshire chief executive Simon Storey.
"The heavy rain on Monday, and then again on Thursday, created risks associated with a wet outfield that have prevented us from playing," he added.
The club had chosen to play the game at Chesterfield to preserve the surface at the County Ground in Derby after it hosted a Boyzone concert on Saturday.
"We will learn from this moving forward," added Storey. "To minimise the risk of weather intervening, we will focus on Chesterfield as an out-ground only in the core summer months of June, July and August."
'It's just not in a fit state'
Kent say they have "made formal representations" to the ECB, head coach Matt Walker having been unhappy that Derbyshire had not foreseen the potential problems.
"You're probably not going to bowl on it for another four days," he told BBC Radio Kent. "It's just not in a fit state to play cricket.
"Obviously when you come to an out-ground, certainly in September, there's a risk.
"We all knew when we turned up here on day one that you just weren't going to bowl a ball on here for the four days.
"Knowing the risks attached to a ground that is obviously going to be susceptible to being waterlogged at this time of year, they had the opportunity to probably play it somewhere else.
"I don't want anyone to get punished, but it's disappointing."
The ECB says it is aware of Kent's concerns and is looking into it.
Derbyshire have staged more than 400 first-class matches the ground since they played their first game there in 1898.