Ashes 2017-18: 'Lucky dip' England must prove doubters wrong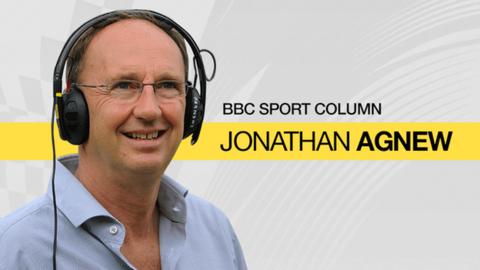 The Ashes
Venues: Brisbane, Adelaide, Perth, Melbourne, Sydney. Dates: 23 November - 7 January.
Coverage: Ball-by-ball Test Match Special commentary on BBC Radio 5 live sports extra, Radio 4 LW, online, tablets, mobiles and BBC Sport app. Live text commentary on the BBC Sport website
The issues surrounding England's batting have been discussed to death and no-one, myself included, has managed to come up with a solution.
Now, the true scale of the problem has been revealed in the selection of the squad that will attempt to defend the Ashes in Australia.
I have sympathy for the selectors, because they can only choose the players available to them - this isn't like Premier League football where you can go out and buy a new striker.
Still, what is left is the weakest party I have seen sent down under from these shores.
At best, the batting is a lucky dip. At worst, it is a return to players who have shown themselves to be proven failures.
James Vince - the most surprising name in the 16-man squad - had seven Tests in the summer of 2016 and averaged only 19.
That is not just a trial period, but a proper, extended run in the side and one that did not yield a single half-century.
There are better batsmen than me out there who think that he has something, but he has still only managed to average 34.82 in the County Championship this season. From that modest return, he looks set to bat at number three in the first Test at the Gabba.
Someone, somewhere, has had an incredible hunch that he is going to come good.
Vince is not the only beneficiary of a recall, with Gary Ballance returning from the broken finger that cost him his place after the second Test defeat by South Africa in July.
The Yorkshire left-hander made a wonderful start to his Test career, with four centuries in his first nine matches. In his past 13 Tests, he averages 19.
If the recent numbers of Vince and Ballance are desperate, then the likes of Dawid Malan and Mark Stoneman are simply unproven.
Malan averages 23 after five Tests, with two half-centuries, while Stoneman made one fifty in his three matches against West Indies.
Time and again, batsmen are promoted from county cricket with technical flaws that are exposed after only one or two innings in the Test arena. Vince, Ballance, Tom Westley and Ben Duckett are clear examples.
They have the skill to score big runs in the domestic game, but are found wanting at the highest level.
My Test Match Special colleague Geoffrey Boycott has previously questioned the batting coaches who are working both with the counties and the England side, but I believe the problem comes from the structure of the domestic game.
The two-divisional structure of the County Championship means that more than half of players are not suitable for Test selection because the step up from Division Two is simply too great a leap to make. People can chunter about that, but it has been proven to be true.
In truth, though, it is hard to come up with alternative names and it is not only the selection of the batsmen that leaves questions to be answered.
To me, the choice of uncapped 20-year-old leg-spinner Mason Crane is a strange one.
Is it really the best idea to throw him in to make his debut if Moeen Ali wakes up feeling ill on the morning of a Test?
There's no doubt that Crane has bags of potential and that he may one day win Test matches for England, but is he ready to contain the likes of David Warner and Steve Smith in 90-degree heat?
In the fast bowling department, England look short of genuine pace.
It would seem that they wanted to take Mark Wood to Australia, but he has been deemed to be unfit.
With that being the case, I would have opted for Liam Plunkett but, instead, England will travel with an attack that looks one-dimensional.
That is not to knock the likes of James Anderson and Stuart Broad, who are amongst the finest pace bowlers England have ever had, but they lead a fast-bowling unit that lacks an X-factor.
Plunkett is the quickest around. In Australia, he could have been an option to bowl as quickly as possible, roughing up the home side with a few bouncers.
As it is, a group of fast bowlers that also includes Chris Woakes, Jake Ball and the uncapped Craig Overton does not look capable of sending down a proper bumper.
England in Australia 2017-18 - Ashes Tests
23-27 November - 1st Test, Brisbane (00:00 GMT)
2-6 December - 2nd Test, Adelaide (d/n) (04:00 GMT)
14-18 December - 3rd Test, Perth (Waca) (02:30 GMT)
26-30 December - 4th Test, Melbourne (23:30 GMT, 25-29 Dec)
4-8 January - 5th Test, Sydney (23:30 GMT, 3-7 Jan)
The problems that I am highlighting will be magnified if Ben Stokes is ruled out of part or all of the trip.
The incident that took place in Bristol in the early hours of Monday morning came at the worst possible time. It has cast a shadow of uncertainty over the build-up to the tour.
Whatever happened, it is bitterly disappointing that the Test vice-captain was even out at that time during the middle of a one-day series.
When Stokes accepted the job of being Joe Root's right-hand man, he also took on the responsibility that comes with it. He had to show himself to be part of the management team, to command respect and display authority.
England have stuck with Stokes as vice-captain, but this is now a legal matter.
If the Durham man is to be part of all of the scheduled internationals between now and the end of the winter, he would be out of the UK until early April.
Imagine the ramifications to the England team if he had to come home as part of the legal process midway through the Ashes tour.
Not only would that be an unwanted distraction to the rest of the squad, but England would also have to replace the linchpin of their team. It would probably need two men to cover Stokes' runs, wickets and impact in the field.
However - and I strongly emphasise this point - it is not all doom and gloom.
England could use all of the surrounding doubts as a force to galvanise them into doing something special.
They could use the spirit of Mike Gatting's triumphant squad of 1986-87 - one that was written off as being unable to bat, bowl or field, only to win in Australia.
Those members of the squad that have failed in the past, or still have something to prove, must start working now.
They know of their shortcomings and of the challenges they are likely to face, so they have to knuckle down and work hard to give themselves the best chance of competing and winning.
The real business begins when they arrive in Australia, with three warm-up matches before the first Test.
Those games must be taken as serious preparation, not as 15-a-side knockabouts, but as proper cricket in conditions as close as possible to what England will face in the Tests.
And then so much will ride on that first Test at the Gabba. When England won the series in 2010-11, they got out of Brisbane with a draw.
What follows is the unpredictability of the day-night Test in Adelaide and the Aussie fortress of the Waca. England have no choice but to start the series well.
This is a real chance for England to grab an opportunity, to move on from mistakes of the past and to prove the doubters wrong.
That is what international sport is all about.