Usman Khawaja on struggles with racial sledging in Australian grade cricket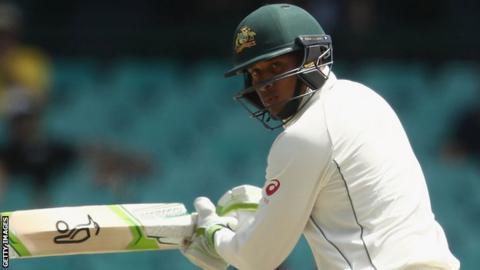 Australia's Usman Khawaja says being racially abused as young players has stopped many overseas-born cricketers from playing for the country.
The 30-year-old, who was born in Pakistan, said such abuse culminated in him not supporting Australia teams.
"Getting sledged by opposition players and their parents was the norm," said Khawaja on the Players Voice website.
"Some of them said it just quietly enough for only me to hear. It still hurt, but I would never show it."
Khawaja became the first Muslim to play Test cricket for Australia when he made his debut against England in 2011. He has scored 1,728 runs in 24 Tests, including five centuries.
"I was brought up to be respectful, humble and polite. But when I watched the Aussie team, I saw men who were hard-nosed, confident, almost brutish," he continued.
"The same type of men who would sledge me about my heritage growing up.
"It is for this reason why so many of my friends, most of whom were born outside Australia, didn't support Australia in sporting contests. I didn't either."
He added: "My point is this: it's no surprise it has taken Australia cricket so long for coloured players to come through the system."
Khawaja, who was the only Asian at first-class level in Australia when he began playing for New South Wales, added that the situation has improved because "youngsters are given a bit more support to nurture and grow as players". He said this is "paving the way for all cricketers from all ethnic, religious and socio-economic backgrounds".
His article ended: "Australian cricket is slowly changing and will finally have a chance to reflect what Australia really is - an international team truly representative of its richly diverse population."