The other Ryan Sidebottom: Warwickshire's Australian fast bowling 'discovery'
Last updated on .From the section Cricket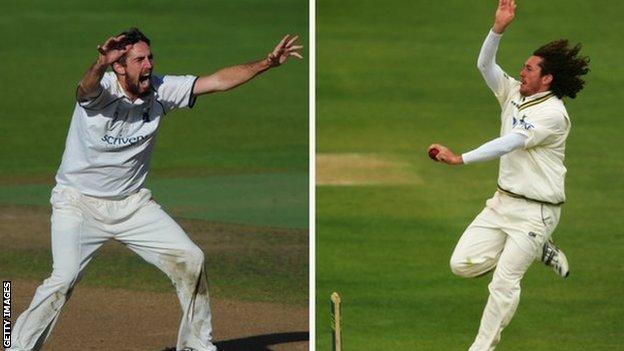 Once upon a time there was only one Ryan Sidebottom - Yorkshire's seemingly ageless former England left-arm paceman.
Then, in August, Warwickshire recruited an Australian hopeful by the same name, and there were two Ryan Sidebottoms.
Yorkshire's Sidebottom retired at the end of the 2017 season, four months short of his 40th birthday.
But Warwickshire's version, the 28-year-old recruited by the Bears from the Birmingham League, has a chance to keep alive this famous cricketing name.
In a season of County Championship relegation misery for the Bears, Sidebottom's late-season emergence, with 23 wickets in six matches and the reward of a one-year contract, was one of the few plus points.
One of the men responsible for introducing him to English cricket, former Bears batsman Dominic Ostler, suggests that he has the chance to become every bit as well known as his more illustrious namesake.
"He's got a lovely action, a lot of pace and he's a great man to have in the any dressing room," Ostler told BBC Sport. "We just hope he goes on to bigger and better things, which he's more than capable of."
From Berkswell to Birmingham
Ostler, now 47, still plays Birmingham League cricket with Berkswell, near Solihull. He captained them to the league title in 2016 with a team containing several other former Warwickshire players - Darren Maddy, Tom Milnes and Nick James.
Following on from the success of Australian Dan Worrall, who has since represented his country in limited-overs cricket, Berkswell also had a good South African fast bowler, Gerrit Cloete, in 2016.
When they were offered the services of Sidebottom, Ostler's original hope was that he could match his two immediate predecessors as Berkswell's overseas player. But, after seeing him partner youngster Grant Thornton, who also joined Warwickshire earlier in the summer, he quickly revised his estimate.
"As soon as he'd played a couple of games, we knew there'd be a few sniffing after him," said Ostler. "He played second team cricket for Notts and Northants but really, if he was going to end up anywhere, he had to be a Bear.
"In Grant Thornton, they've also got a good man there too. He bowls a heavy ball and he's taken wickets with white and red ball. If it had not been for an ankle injury, he might have made bigger strides than he has."
Thornton's injury, coupled with Warwickshire's poor form, proved Sidebottom's gain.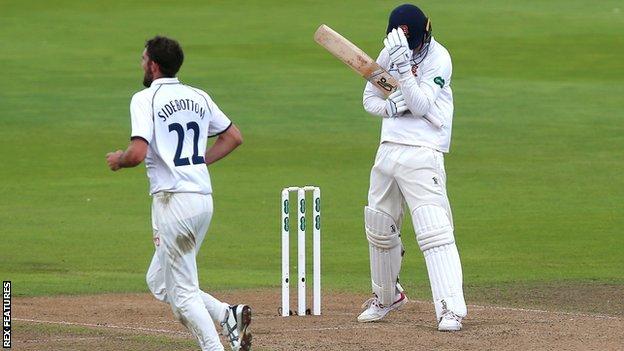 Having taken four wickets in two Second XI Championship matches for Northants, Sidebottom took eight in his one appearance for Notts.
A month on, he was turning out for Warwickshire's second team. And, after taking 5-54 against Durham at Gosforth, he truly shone in his next match - 2-26 in the first innings before routing Northants in the second, taking 8-33.
Just 10 days later, he was handed his Bears debut - at Lord's against Middlesex - and he made an instant impression, taking 4-29 and 2-41 to help the Bears to their only Championship win of the season.
"It was pretty surreal," said Sidebottom. "Just to be picked to play for Warwickshire was a massive achievement, let alone have my debut at Lord's. That was unbelievable.
"You walk through the Long Room to reach the pitch, which is pretty daunting but special. You just have to take in as much as you can but then concentrate on the job.
"I'd have been happy with one wicket, so to get four in that first innings was outstanding. You just have to pinch yourself and just count your blessings."
Same name, different Sidebottoms
Yorkshire's Ryan Sidebottom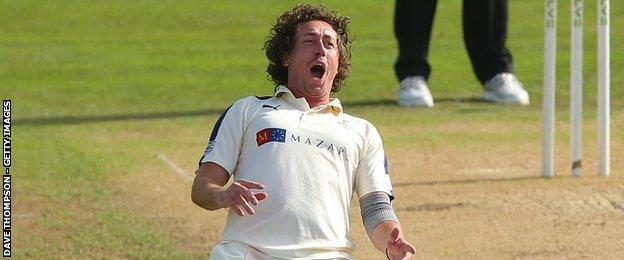 From:

Huddersfield, West Yorkshire.

Hair:

Long and curly.

Action

: Left-arm fast medium (swing).

Age:

39. Father Arnie also played cricket for Yorkshire and England (one Test in 1985), taking 596 wickets, as well as playing centre-half for Manchester United, Huddersfield Town and Halifax Town.

Stats:

Took 1,053 wickets in all forms of the game for Yorkshire, Nottinghamshire and England - including 762 first-class victims (79 of them in 22 Tests for England). He took 198 more in one-day cricket and 93 in T20, including two in England' World T20 final win over Australia in 2010.
Australia's Ryan Sidebottom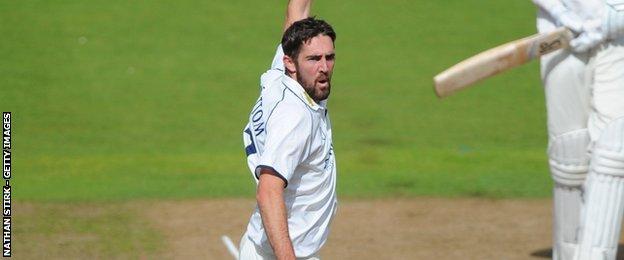 From:

Shepparton, Victoria.

Hair:

Short, straight and dark.

Action:

Right-arm fast.

Age:

28. Born on the day of Australia's biggest-ever Test win in England (by an innings and 180 runs) at Trent Bridge, 14 August 1989.

Stats:

Had made one first-class appearance prior to this summer, returning match figures 1-93 on his Sheffield Shield debut for his native Victoria against Tasmania in Hobart in March 2013. Maiden first-class victim: Mark Cosgrove, lbw, in a game in which Ricky Ponting went on to make a century. Has now claimed 24 first-class scalps. 23 of which have come in his six Championship matches for Warwickshire at an average of 22.17.
Where next for Ryan Sidebottom II?
It was March 2013 when the Australian Sidebottom had his first crack at professional cricket. Troubled by foot injuries over the next three years, he opted to try his luck in England, taking advantage of his UK passport as a result of having a Devon-born mother.
"I came over hoping to end up with a county and it just sort of happened," he said. "The plan was just to play for Berkswell, enjoy what club cricket had to offer and learn a bit more about my game.
"But I had a couple of chats with (Bears sport director) Ashley Giles when I first got over and they were keen for me to play second XI cricket. For it to happen so quickly with a club as big as Warwickshire, so rich in history, was unbelievable."
With the latest Ashes series starting on 23 November, Sidebottom has handily gone back to Australia to winter with his four brothers, all of whom play cricket and one of whom, Steele, plays Australian Rules football for Melbourne side Collingwood.
Sidebottom is due to return in February, intent on trying to help bowl the Bears back into Division One.
"It's disappointing that we went down, but at the same time it's an exciting opportunity for everyone to get their hands dirty and embrace the challenge of Division Two," he said.
And, as for his more illustrious namesake, does he enjoy the inevitable banter?
"I've heard them all," said Sidebottom II. "Have I had my hair cut? Do I bowl left arm as well?
"But he's a guy who's done it for years. Hopefully I can pace my way and just keep to his standards."