Ben Stokes: England all-rounder will make 'full explanation public when time right'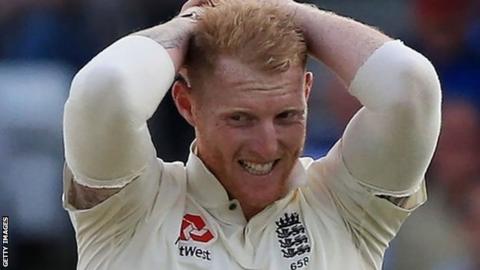 England cricketer Ben Stokes will make his explanation public when the time is right after his arrest, says his agent.
The all-rounder, 26, was arrested on 26 September on suspicion of causing actual bodily harm following an incident near a Bristol nightclub.
"Ben will make public his full explanation and evidence when the time is right," said Neil Fairbrother.
"On legal advice, that is not possible whilst the investigation continues and no charges have been brought forward."
Stokes was released without charge but remains under investigation after claims of an early-hours brawl.
The England and Wales Cricket Board (ECB) has said that he will not travel to Australia on 28 October with the rest of the Ashes squad "at this stage".
Former Lancashire and England batsman Fairbrother said Stokes does not wish to prejudice the legal process.
On Wednesday, it was announced Stokes had lost his sponsorship with sportswear brand New Balance, which was worth a reported £200,000 a year.
Fairbrother said the player has his "total support and backing" after explaining the full circumstances to him of what happened in Bristol.
"I am aware that he has fully cooperated with the police inquiry and voluntarily provided a detailed statement on the same day as the incident. He will continue to assist the police in any way he can," he added.
"He is also concerned about the impact the widespread publicity has on everyone involved including the ECB, his team-mates and the game of cricket itself, which he loves."
Ashes absence would be 'huge blow'
Ex-England fast bowler Graham Onions said he hoped his former Durham team-mate Stokes would make the Ashes trip.
"If he does not travel, it will be a huge blow," Onions told BBC World Service's Stumped programme
"He catches at slip, his enthusiasm and of course he is vice-captain - that does not even mention his ability to win matches with both bat and ball.
"The thing I look at is, you get all-rounders around the world, Ian Botham and Jacques Kallis - these guys do two roles. So if you lose Ben Stokes, do you play an extra batter and lose a bowler or play an extra bowler and potentially lose a batter? I feel England could potentially go down that extra spin route."
Onions said he had not spoken to Stokes since the incident but would be at his wedding to Clare Ratcliffe in Somerset on Saturday.
"He's had his phone switched off and has not been on social media a great deal," he said.
"We know what he is like. When we had him at Durham, he was a massive boost, he wants to play as much cricket as possible, every team he plays for, he will do his utmost to win, he is a winner."