Middlesex: Somerset 'preparing legal case' against ECB if points deduction reversed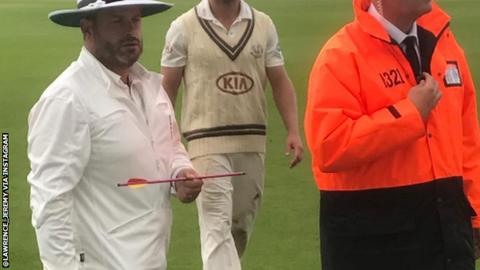 Somerset are preparing to take legal action against the England and Wales Cricket Board should Middlesex's appeal over a points deduction be successful.
Middlesex were relegated to Division Two after finishing one point below Somerset.
They were docked two points for a slow over rate during their game at Surrey in August, which was abandoned when a crossbow bolt was fired into The Oval.
A decision on Middlesex's appeal could be made by the ECB next week.
In a statement, Somerset chief executive Lee Cooper said: "We're confident the decision of the ECB is one which will stand.
"However, as a precautionary measure we've instructed a leading London-based law firm to prepare our case should the inconceivable happen. If the decision is taken to reinstate the points, we will be well placed to challenge this."
How this situation arose
Middlesex lost their final match of the season at Somerset, who leapfrogged the 2016 champions with victory at Taunton to seal their own survival.
The crossbow incident at The Oval meant Middlesex were denied the chance to improve their over rate in the remainder of the final session of that match.
After the points deduction was announced on 9 September, Middlesex chief executive Richard Goatley said there was "no scope" for an appeal, despite the fact he was "extremely disappointed" by the decision.
A day after their relegation, managing director of cricket Angus Fraser told BBC Radio London they would raise the circumstances of the deduction with the ECB.
Middlesex confirmed they had "made submissions to the chairman of the Cricket Disciplinary Commission over the issue" on Wednesday.
'It would bring the game in to disrepute'
Speaking at a members' forum, live on social media, earlier on Thursday, Cooper said: "The implications of them overturning that decision are significant for Somerset - we get relegated.
"Having fought so hard to survive to win three of the last four games, relegation would be an unfair outcome.
"The decision was made. Whether the decision was right, wrong, fair or unfair, is not in question. The decision was made.
"And, because of that, our - and for other teams too - tactics were determined by what we needed to survive in Division One. One simple example of that was the last game.
"If we needed two extra points, we'd have had completely different tactics. We'd have scored 300 in the first innings and we'd have been fine anyway.
"As it happened, we prepared a result wicket. We won the game. We achieved the desired number of points we needed and we survived.
"If in retrospect they now change that decision, they've brought the game in to disrepute. That's the issue."