Paul Nixon: Leicestershire head coach wants to lift standards after 'demise'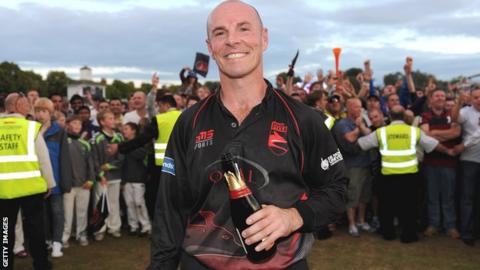 New Leicestershire head coach Paul Nixon wants to set the bar higher following a tough spell for the club.
The 47-year-old won the County Championship twice as a Leicestershire player in the 1990s and helped the side to three Twenty20 titles.
Nixon told BBC East Midlands Today: "I care passionately about the club.
"I have seen a little bit of a demise over the last few years from the success we had in the 1990s and then the T20 wins."
The former Foxes and England wicketkeeper was appointed to the head coach role last week after Pierre de Bruyn left the club in September after only one season in charge.
Nixon was part of Championship-winning sides in 1996 and 1998, before being part of Leicestershire's T20 successes in 2004, 2006 and 2011.
But the club has not won a trophy since their 2011 T20 title and finished bottom of County Championship Division Two in 2017, failing to win any of their 14 matches.
"We were used to winning trophies but sadly it slipped away and it is time to lift those standards again," added Nixon.
"The club means the world to me. They were the first people to give me the opportunity in this great game we play. I have a lot to put back in, I care deeply about the club."
Nixon says he is keen to keep producing talented players in the academy who will make the progression to become a first-team player.
"There has always been a great infrastructure, working from the foundations of the academy and the Player Pathway Programme," Nixon added.
"This is something I am passionate about and really want to get going again.
"I want to make sure we have the development, and make sure we have elite standards and the standards of the first team go right through to the 10-year-olds in the club."