Ashes 2017-18: Jake Ball inspired by England's 2005 win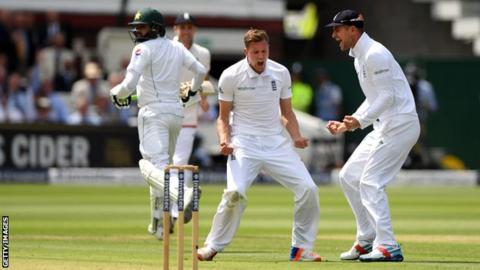 Bowler Jake Ball says England's 2005 Ashes win over Australia was a turning point in his passion for cricket.
The 26-year-old Nottinghamshire paceman is part of the England squad which will leave for Australia on Saturday.
Ball, who was aged 14 in 2005, told BBC Nottingham Sport: "The 2005 Ashes is where everything got going for me.
"My brother and I watched every ball we could in that series and it got my juices flowing. It is what pushed me to try to get on an Ashes series."
England ended Australia's 18-year grip on the Ashes when they won an enthralling five-match series 2-1 in 2005.
Ball, who has played three Test matches for England, continued: "I was big into my cricket but I saw how many people got into cricket that year. Up until then I did not realise how big cricket was in this country.
"Everybody came together as a nation to watch that and I think it captured everybody's imagination, it certainly captured mine. Hopefully we can recreate what happened in that series out in Australia."
Broad speaking by Notts team-mate
Ball is one of two Nottinghamshire bowlers in the touring party with team-mate Stuart Broad, with 109 Test caps to his name, set to be part of his sixth Ashes series.
"The players who have already been out there in an Ashes series were giving advice," Ball added. "I have been told to keep my head down.
"It can be quite a hostile place. The crowd and their players like to get on top of you and it is about keeping in your own bubble and doing what you do best.
"It was very helpful and to have the likes of Broady - who I am very close with - to turn to for advice.
"He has probably seen the worst side of Australia. He got quite a lot of stick last time he was there, so to have people like him is a real positive.
"People say you can make your career out of an Ashes series, so hopefully I can go out there and show what I can do and put my name up in lights."