Leicestershire: Wasim Khan says club were 'a laughing stock'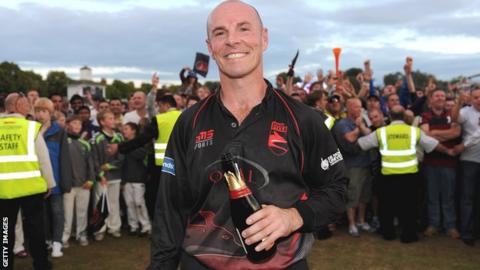 Wasim Khan says Leicestershire were "a laughing stock" in the local community when he took over as chief executive.
Khan walked into the job in January 2015 at a club who had not won a County Championship fixture for two seasons.
The run continued to June 2015 before they finally ended a 37-game streak that lasted almost three years.
"Every time people mentioned Leicestershire there would be laughs and giggles and it embarrassed me," Khan told BBC Radio Leicester.
"People were questioning the existence of Leicestershire. We were the poor relation in the city with the football club and basketball down the road.
"One of my big jobs was to raise the credibility of the club again. There was a real image for the organisation that was shrouded in negativity. It was a bit of laughing stock."
Last season was another tough one, with Leicestershire failing to win a Championship match and finishing bottom of Division Two having lost nine of their 14 matches.
Pierre de Bruyn also left as head coach in September, before the end of the season.
But there has been progress in the shorter forms of the game - and off the pitch.
Former long-serving wicketkeeper Paul Nixon replaced de Bruyn as head coach in October, turnover has increased and brought a small profit of £8,813 for the financial year ending in September 2016, while there have been numerous developments at the ground.
Khan said things had to change to restore "pride" and he has said he expects much better on the field next season too.
"I set out on a road to change the image and tell people it was a new era," he added.
"We had this kind of slogan of "you said we did". We said let's get as much feedback around what we do and and change and improve things."
In 2017 Leicestershire did reach the quarter-finals of the Twenty20 Blast and finished sixth in their One-Day Cup group, recording three wins and a no result from eight fixtures.
Off the pitch, ground development, a naming rights deal for Grace Road, sponsorship and the work on the commercial side - including an Elton John concert - had helped turn things around after three successive years of losses from 2012, totalling in excess of £500,000.