Heather Knight column: Women's Ashes, humpback whales, bell-ringing and Blowers' cake
Last updated on .From the section Women's Cricket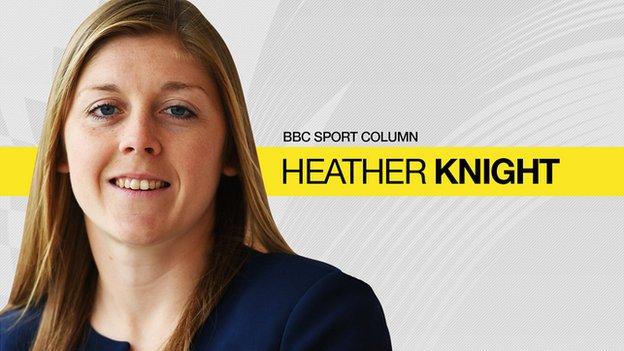 Women's Ashes Test: Australia v England
Venue:
North Sydney Oval
Dates:
3-6 November
Start time:
03:30 GMT (day/night)
Coverage:
Ball-by-ball Test Match Special commentary on BBC Radio 5 live sports extra, BBC Radio 4 LW, BBC Sport website & app; live text commentary on the BBC Sport website & app
As our World Cup-winning summer drew to a close, I had the honour of ringing the five-minute bell during the final men's Test match against West Indies at Lord's.
The nerves weren't too bad until everyone started giving me tips on how to ring it! I went for the brief but firm technique, coupled with the awkward smile and wave.
Afterwards, I took my cousin up to the media centre to give him a bit of a tour. I slightly regretted this when we were in the TMS box and he nearly sat on Henry Blofeld's leaving cake.
Luckily he realised it wasn't an empty seat in time, and the cake (and my blushes) were saved! You can't take a Knight anywhere…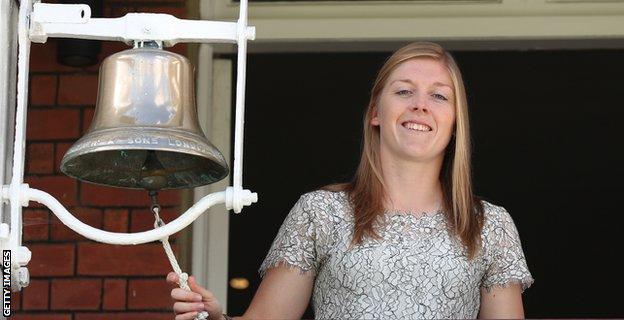 Going back to school
Just before we left for Australia, I got the chance to go back and visit my old school, Elburton Primary, with Chance to Shine. I've hardly been back since I left, but I often drive past when I'm down visiting my parents in Plymouth. I always get a buzz when I see kids out playing quick cricket on the playing field just like I used to do all those years ago.
It was quite a strange experience and bought back a lot of good memories. My old Year 6 teacher and head teacher were still there and it was good to hear some stories - unfortunately a few embarrassing old pictures were also wheeled out. We also relived the glory of winning the Year 6 local quick cricket competition - great memories.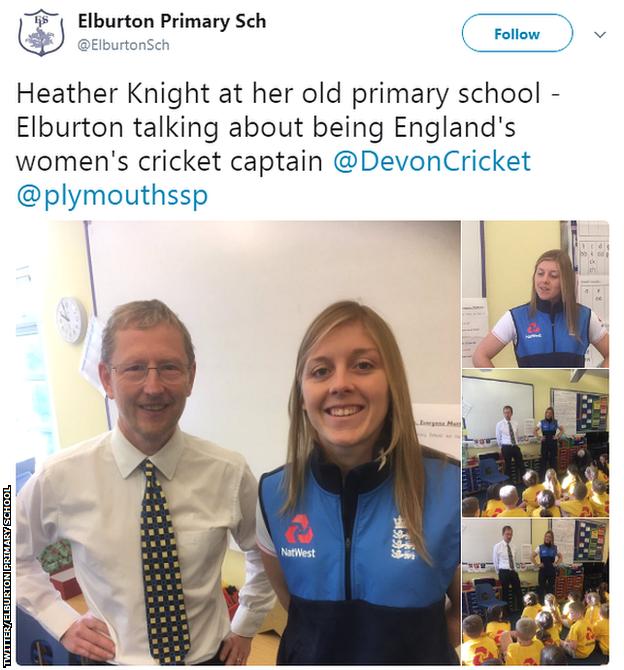 Ashes arrival in soggy Brisbane
The weather was far from kind to us when we arrived in Brisbane to begin our Ashes preparations. Our first hit on grass was followed by five solid days of rain, which washed out our warm-up matches and confined us to the indoor school. Apparently we brought the rain with us and it was all our fault, as every Australian was quick to tell us!
Despite the deluge, the groundstaff at Allan Border Field did an amazing job, staying up and super-sopping the field all night before the first one-day international to make sure it was fit for play after being waterlogged the day before.
Unfortunately the first ODI didn't go our way, we lacked a bit of match readiness and lost a close game we probably should have won. They're sometimes the most frustrating games as a player, but we had to move on pretty quickly to the next ODI.
Humpbacks, chess and Time Crisis
We arrived in Coffs Harbour and found ourselves at Australia's version of Butlins, complete with a games arcade and giant chess set. I used to love the game Time Crisis as a kid and it was a blast from the past having a go on that.
Sarah Taylor and Anya Shrubsole were the most successful combination, although I think it was because their gold coin collection took a bit of a hit!
We had some amazing views of the water from where we were staying, and it's an area that's prime for whale watching. Despite that, 25 minutes later and with no whales - and the words, "you'll be unlucky if you don't see one in 10 minutes" ringing in my ears - I was a bit disappointed.
Fortunately I managed to see some humpbacks from our hotel later in the day. What a sight.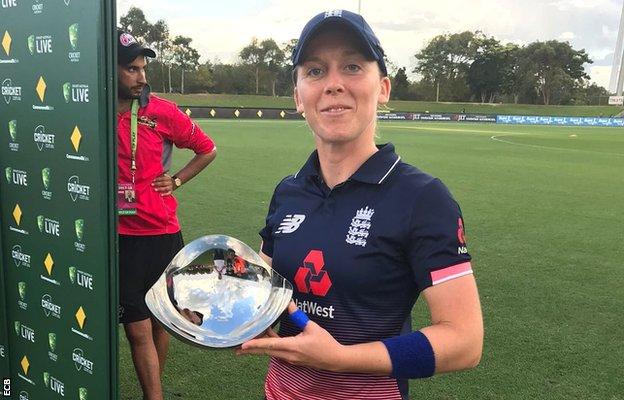 Cutting the deficit - and winning a fruit bowl
Australia outplayed us in the second ODI in Coffs, taking a 4-0 lead on points in the series, leaving us with a lot of work to do. We had to get the momentum back and it was so important that we put in a big performance in the third and last ODI.
Lots of players stood up and we did just that as we won by 20 runs, Sarah Taylor and Tammy Beaumont leading the way with the bat and the bowlers finishing the job with a tidy spell from Nat Sciver in particular.
It was nice to contribute personally as well. I've felt I've been hitting the ball really well after a few changes to how I set up since the World Cup and I was annoyed not to go on after starts in the first two ODIs.
It was one of the strangest player of the match awards I've received though - a silver fruit bowl. A bit different, but I'll take it!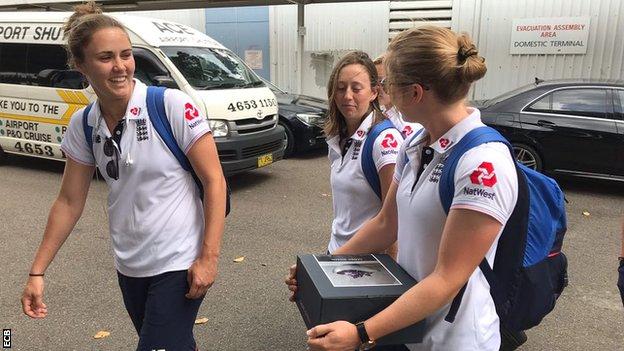 New Rwanda stadium building hope
While we've been away, the opening ceremony for the first international cricket stadium in Rwanda took place. It was a proud moment, having played a very small part initially as a patron and then a trustee of the charity that made it happen, Cricket Builds Hope.
I think you'll agree from the photo below it will go down as one of the most beautiful backdrops in world cricket with its bouncing ball pavilion. Congratulations to everyone who has made this very special project happen.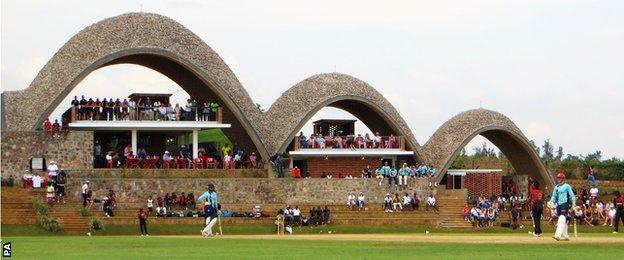 Back in whites
We've now settled in Sydney and our three-day warm-up game for the Test match is under way. I've been so looking forward to it as I love playing Test cricket and to be involved in the first day-night Ashes Test is going to be so special.
There will be a lot of novelties for both teams with the format, the pink ball and the day-night aspect so it's probably going to be the team who adapts best that will be successful.
A win for us in the Test match would take the score to 6-4 and set us up brilliantly in the context of the series, with the three Twenty20 internationals to follow. Hopefully we can do just that.
Listen to ball-by-ball commentary on the Women's Ashes Test on Test Match Special, with live text commentary on the BBC Sport website & app.