Ashes - Australia v England: How well have Australia met their pre-series targets?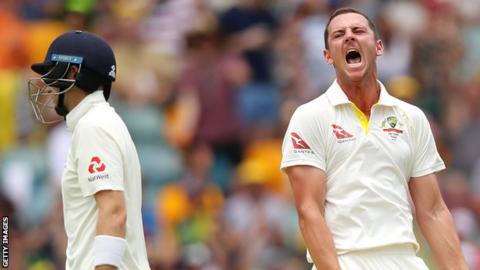 Australia v England, second Ashes Test
Venue: Adelaide Oval Date: 2-6 December Time: 03:30 GMT
Coverage: Ball-by-ball Test Match Special commentary on BBC Radio 5 live sports extra, Radio 4 LW and the BBC Sport website. Live text commentary on the BBC Sport website and app.
Australia will be thinking that England are a boat without a rudder at the moment.
The tourists are distracted not only by their own form, or lack of it, but also the Ben Stokes saga.
They are all over the place after defeat in Brisbane, and their preparations for the second Test in Adelaide starting on Saturday - a match they probably have to win in order to keep the series alive - are bound to be affected.
With England holding the Ashes, Australia have to win the series to regain the urn.
If they had some objectives before the first Test in Brisbane, then a number would have been fulfilled, with a little work still to do on others.
Inflict pain with pace
Before the series began, several Australia players spoke of "re-opening the scars" that might exist within the England team from their 5-0 defeat four years ago, particularly when it comes to the torrid time they were given by the pace of Mitchell Johnson.
In that sense, Mitchell Starc, Pat Cummins and Josh Hazlewood were most successful in Brisbane, especially given the sluggish nature of the Gabba pitch for the first two days.
James Vince and Mark Stoneman were able to make runs before the ball started flying around and the 302 England managed in the first innings could well be a false dawn.
In both innings, the tail capitulated to Australia's fast bowlers, so they can expect plenty more up their nose for the rest of the series.
There is a difference between simply running up and bowling short for the sake of it, and bowling effectively. Australia managed to do both.
They kept Joe Root quiet, but if the tail have got no idea against short bowling, they will get themselves out. If you are merely flinging your bat and gloves at the ball, like Jake Ball, you have to expect that the fast bowlers will bowl short at you.
Australia have a very good pace attack. I don't know about opening up scars, but they certainly may have dented confidence, especially with faster, bouncier pitches to come.
Success of the top seven
We knew before the Gabba that Australia's batting relies too much on David Warner and Steve Smith. The top seven was one area where England could cash in.
Even if Australia's frailties are not as large as England's, the home batsmen returned mixed results in Brisbane.
Cameron Bancroft has played only one Test, but showed in the second innings that he could fit the bill as an opening batsman.
I am less sure on number three Usman Khawaja, even though he has an excellent record in Australia. He has problems against spin, but Moeen Ali admitted he bowled rubbish in the first Test and leg-spinner Mason Crane is not good enough to be in the squad. Root is England's best spinner at the moment.
Peter Handscomb has technical issues - he is a candidate to fall lbw to James Anderson - and I am not convinced by Tim Paine's batting. That is the reason Tasmania did not pick him for four years.
Shaun Marsh can play, but we have been wondering if he can do it consistently in all of his many incarnations as a Test batsman. He has made one score - a first-innings half-century - but he needs more because Australia would love an all-round option at number six.
Target the captain
We regularly hear of Australia's desire to target the visiting captain, but on this occasion it was England who singled out Steve Smith for special treatment.
Smith's 141 not out despite England's exhaustive attempts to dry his scoring was one of the biggest feats of self-denial from an Australia captain for many, many years.
In terms of being a target, Smith copped more than Root. The difference was that Root could not go on and make the really big score.
Still, Root is such an important wicket because, like Smith, he is the foundation of much of his team's batting.
By restricting him to scores of 15 and 51, Australia had the greater success when it comes to cutting the head off the serpent, probably because they have much greater depth in their bowling.
Australia have a few things worked out against Root, particularly when it comes to finding some extra bounce outside the off stump. He always gives the impression he could slice or edge one.
Keep the big guns quiet
Root aside, Australia know they have to deal with England's proven international performers: Alastair Cook, James Anderson and Stuart Broad.
Cook made 766 runs when England won here in 2010-11 but managed only 246 in 2013-14. In Brisbane, he made only nine runs in the match, with his second-innings dismissal - a hook to long leg - the shot of a man whose reflexes are not what they were.
Like namesake Captain James Cook, he might have had his successful navigation of Australia, but now he is up against it.
For England's sake, Cook needs to dig in somewhere and make the Australia bowlers sweat into long spells. I do not know if he is capable of that any more.
Anderson and Broad, however, looked likely with the ball for much of the match. If things are more favourable in Adelaide, they will probably go extremely well.
Still, they cannot bowl all day and they will need some back-up. That is an issue for England at the moment.
Win the psychological battle
Australia certainly took the psychological bragging rights from Brisbane. Not only did Jonny Bairstow's 'headbutt' on Bancroft give the young opener the chance to have the entire media in stitches, but it left all England's players and staff under a midnight curfew.
A curfew can be a divisive thing to impose upon a touring party - there is usually an assumption that adults can take care of themselves without having to impose boarding-school restrictions. It's the sort of thing that went out with World War Two.
It is kids' stuff, and a win for Australia.
On the field, the hostility might only get worse for England, with a day-night crowd in Adelaide perhaps having even more fire in the belly than the famous 'Gabbatoir'.
The day-night hours could raise the level of intoxication amongst the home fans, which probably isn't good news for the visitors.
Silence the England fans
This is perhaps one battle that Australia can never win.
The Barmy Army have it over the home fans, not only in the noise they make, but the songs they sing.
Their tunes are something worth listening to, a singalong with a bit of imagination, opposed to the droning chants of the Fanatics. The Australia fans do not have a genuine riposte.
It is hard to imagine an on-field situation dire enough to keep the Barmies quiet.
Four years ago, in Sydney, the England team were in the departure lounge, yet the Army were the noisiest section of the crowd.
Naturally, they will happier if England are going well, but they will never be deterred by defeat.
Jim Maxwell was speaking to BBC Sport's Stephan Shemilt.
England XI for second Test
Who should be in England's team for the second Ashes Test? Choose your XI and share it with friends.
Can't see this selector? Visit this page.