Jonny Bairstow: England wicketkeeper receives father's gloves held by fan for 39 years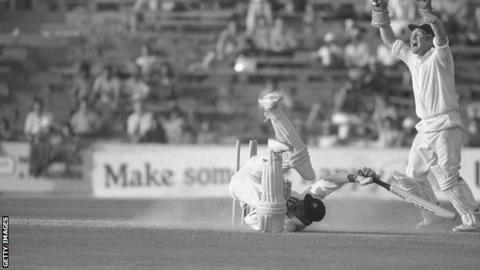 Here is a story from this Ashes series likely to tug at the heartstrings of the most unsentimental.
Back in 1978, young cricket fan Andrew Johns was taken by his parents to Adelaide's West Lakes shopping centre to meet the England Ashes squad, which contained the likes of Geoffrey Boycott, Graham Gooch and Ian Botham.
At the event there was a prize on offer for the person who knew who England's reserve wicketkeeper was - Andrew raised his hand and answered, "David Bairstow". His reward? A pair of gloves signed by the man himself.
Those gloves have since been sitting in a box, until recently when Andrew finally had the opportunity to gift them to Jonny Bairstow, the son of the former international.
Andrew had contacted Bairstow Jr by Instagram when he found out the 28-year-old Yorkshire player would be part of the 2017-18 squad.
"I got a message back that night saying, 'It would be nice to meet you', from his management or whatever," he told Australia's ABC Grandstand programme.
"The next morning I had a message saying: 'I'd love to meet you, I'm staying just across from the ground.' I came in and I brought the gloves with me. I sent him a message saying: 'I'm here.'
"He came out two minutes later, and we had a good 30 to 45 minutes together which was wonderful. He was quite emotional to receive the gloves. It was really lovely."
David Bairstow, who played in four Tests for England, spent his entire county career at Yorkshire. The Bradford-born wicketkeeper took his own life in 1998 at the age of 46 - his son Jonny was eight at the time.
Andrew added: "I just lost my father this year in June - he was 83, but had a great life. I know if someone gave something to me that belonged to my father I'd want it, and that's what I wanted to do for Jonny."
Bairstow Jr said it was a "fantastic gesture", adding: "It's something that is always very special. I've been fortunate enough to go all over the world, and all over the world people have some fond stories of dad."