Ben Stokes: England all-rounder run out for one-ball duck for Canterbury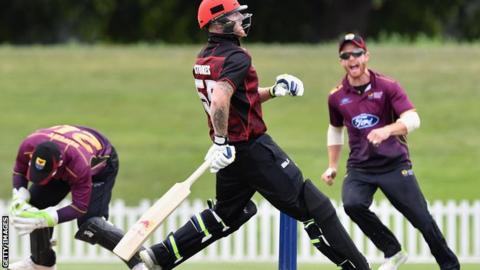 England all-rounder Ben Stokes was run out for a one-ball duck for Canterbury during a 50-over match against Northern Districts in New Zealand.
The 26-year-old was involved in a mix-up with Michael Pollard in his third match for his side and has now scored just 36 runs in three innings for them.
Stokes also conceded 56 runs from 10 overs - but did take his first wicket.
He is unavailable for England after being arrested over an incident outside a Bristol nightclub in September.
The England and Wales Cricket Board (ECB) has said Stokes will not play for England - who are in Australia for the Ashes - until the Crown Prosecution Service decides whether to charge him.
Once a decision has been made, the ECB will decide on disciplinary action.
However, he can play domestic cricket in any country and signed for Canterbury after travelling to New Zealand to visit his family.
Stokes' side were chasing 274 against Northern Districts, but were bowled out for 231 to lose by 43 runs.
How is the Ashes affecting your life?
How have you been following the Ashes from afar, and how has it affected your normal sleeping patterns?
Have you been able to stay up all night and follow the action? Or have you been listening to TMS under the duvet? Perhaps you have been waking more than usual to check updates on the BBC Sport app?
Do you go into work bleary-eyed each morning? How do you juggle day-to-day life with the desire to follow cricket in a distant land?
We're keen to hear about your tales of cricket-induced sleep deprivation/batting collapse nightmares. Contact us via this form, and leave your details if you are happy for a journalist from BBC Sport to phone or email you.