Ashes: Ben Duckett suspended from playing on England Lions tour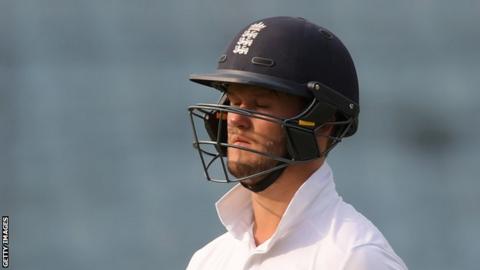 England Lions batsman Ben Duckett has been suspended from playing on their tour of Australia after pouring a drink over James Anderson in a Perth bar.
Duckett, 23, has also been fined and issued with a final written warning over his conduct as an England player.
The Lions will play three Twenty20 matches against Perth Scorchers and Duckett will remain with the squad.
He was dropped from England's two-day game against a Cricket Australia XI in Perth over the weekend.
The Northants left-hander, who has played four Tests, was set to play at Richardson Park after a number of the Ashes party were rested.
On Thursday, Duckett was at a bar in Perth with members of the Lions and senior squads, who were not under a curfew.
There is no suggestion 35-year-old Anderson, who has played 131 Tests and is England's all-time leading Test wicket-taker, has done anything wrong.
Though England coach Trevor Bayliss described the incident as "trivial", team management were left furious at another off-field misdemeanour.
In September, all-rounder Ben Stokes was arrested following an altercation outside a Bristol nightclub and is waiting for a Crown Prosecution Service decision on whether he will be charged.
At the beginning of the Ashes tour, wicketkeeper Jonny Bairstow was accused of 'headbutting' Australia batsman Cameron Bancroft.
Though both described that incident as "without malice", England were subsequently placed under a midnight curfew.
After Duckett's indiscretion occurred on the first night the curfew was lifted, Bayliss said he was "fed up" of having to address off-field matters.
"I might review who is in the team," said Bayliss. "They can't keep making the same mistakes.
"Most of the guys are fine, but somewhere along the line some of the guys have to pull their heads in."
Following an investigation led by Lions coach Andy Flower, Duckett is not being sent home but has been fined what the England and Wales Cricket Board describes as the "maximum allowable amount" for a Lions player - thought to be about £1,500.
However, his place on the Lions tour of the West Indies could now be under threat. A new squad will be named for the trip that begins at the end of January.
On Sunday, England all-rounder Moeen Ali said England's players know their behaviour must improve.
"We're all grown men and we should know how to behave," said Moeen. "The individual needs to be responsible for his own behaviour."
Analysis
Taken in isolation, this was a minor event that ordinarily might not have come to light.
But, after the Bairstow and, in particular, Stokes incidents, England are battling to restore a damaged reputation.
Not only that, but it is yet another distraction on a tour when all of the home players, media and fans will pounce on any weakness.
England management were fuming on Saturday and are considering ending careers of those they think are repeat offenders.
Perhaps it would have been harsh to send Duckett home, but he and everyone else who wants to play for England have been served with the most final of warnings.
Ex-England spinner Monty Panesar, a former Northants team-mate of Duckett, speaking to BBC Radio 5 live's Sportsweek
Ben Duckett's probably thinking: 'I wish I hadn't done that.'
He likes the odd drink to relax, but I think this is out of character. He looks up to senior figures, so he's probably devastated right now knowing he's done something out of line which nobody expected him to do.
We don't need any more incidents like this. I hear it was the same bar as Jonny Bairstow greeted Bancroft, so maybe they should avoid that bar.