Ashes: England know behaviour must improve - Moeen Ali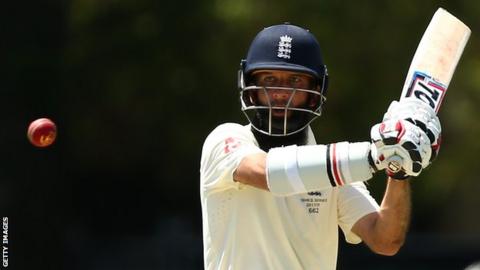 England v Cricket Australia XI, Perth (day two):
England: 314-9 dec & 130-3 dec
Cricket Australia XI: 151-4 dec & 269-8
Match drawn
Scorecard
England's players know their off-field behaviour must improve, says all-rounder Moeen Ali.
Batsman Ben Duckett was dropped from the Ashes tour game against a Cricket Australia XI for pouring a drink over bowler James Anderson in a Perth bar.
"We're all grown men and we should know how to behave," said Moeen, who captained England for the drawn game at Richardson Park.
"The individual needs to be responsible for his own behaviour."
Cricket Australia XI closed the two-day game on 269-8 in pursuit of 294 to win.
The hosts had declared their first innings on 151-4, 163 behind England, who then batted 20 overs for 130-3 to leave 37 overs for the chase.
The Duckett incident came after wicketkeeper Jonny Bairstow was accused of 'head-butting' Australia opening batsman Cameron Bancroft at the beginning of the tour and all-rounder Ben Stokes was arrested following an altercation outside a Bristol nightclub in September.
Both Bairstow and Bancroft eventually said their incident was "without malice", while Stokes is still waiting for a Crown Prosecution Service decision on whether he will be charged.
"As cricketers and professionals, the scrutiny that is on us - we have to be careful," added Moeen.
"It's important we inspire the younger generation to take up the game. These things could possibly turn them away and that's not what we want.
"Maybe the culture needs to change slightly. It's not always easy. Guys are on tour for a very long time and they feel like they want to go out - but when you do go out you have to behave yourself."
Speaking after the Duckett incident came to light on Saturday, coach Trevor Bayliss said he "might review who is in the team" following the off-field misdemeanours.
Anderson, who has played in 131 Tests, is England's all-time leading wicket-taker and there is no suggestion the 35-year-old did anything wrong.
Moeen, who does not drink alcohol, said: "We're playing for England, so we wear the England badge wherever we go. Times have changed. Players can't do things that they would have done in the past.
"I still believe you can enjoy yourself without drinking. I understand why people drink, but there's responsibility that comes with that."
Wood 'ready to play'
Against a Cricket Australia XI, pace bowler Mark Wood - one of six Lions players included after 10 of the senior squad were rested - took two wickets in the first innings.
Wood, not included in the Ashes squad because of an ankle injury, bowled with pace and hostility on a slow surface.
"I was impressed with how he bowled," said Moeen. "I don't know if he's close to being called into the Test squad, but I do think he's ready to play.
"He feels confident in his own game and that he's back to his best. His pace was right up to where we know how quick he can be. His control was fantastic as well."
Moeen himself struck a fluent 47 in England's second innings, while Test reserve batsman Gary Ballance made 45 not out.
However, when England bowled for a second time, only Wood and Tom Curran carried a consistent threat.
Opener Travis Dean made a century, sharing a first-wicket stand of 152 of with Tom Bosito.
On a flat surface and in extreme heat, the home side had an outside chance of pulling off a victory.
Spinners Mason Crane and Jack Leach struggled, but after Curran had Dean caught on the leg-side boundary, England took regular wickets to keep the required rate rising.
England are 2-0 down in the Ashes series, with the third Test at the Waca beginning on Thursday.
How is the Ashes affecting your life?
How have you been following the Ashes from afar, and how has it affected your normal sleeping patterns?
Have you been able to stay up all night and follow the action? Or have you been listening to TMS under the duvet? Perhaps you have been waking more than usual to check updates on the BBC Sport app?
Do you go into work bleary-eyed each morning? How do you juggle day-to-day life with the desire to follow cricket in a distant land?
We're keen to hear about your tales of cricket-induced sleep deprivation/batting collapse nightmares. Contact us via this form, and leave your details if you are happy for a journalist from BBC Sport to phone or email you.