Ashes: Is Steve Smith the best since Donald Bradman?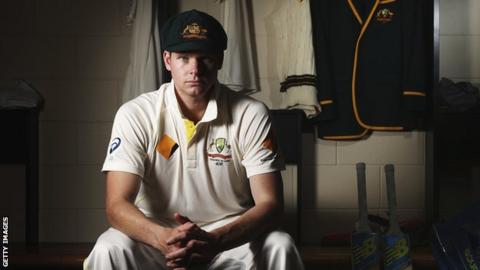 The scale of the damage done to England by Steve Smith's double century in the third Ashes Test is only matched by the sense of inevitability that the Australia skipper would get a monster score when he had only a few runs to his name.
Smith added an unbeaten 229 to the 141 not out he made in the first Test and averages more than 200 in the series. He is winning the Ashes for his country.
Not only that, but he is underlining his status as the number one Test batsman in the world.
And that's just in the present day. His heavy scoring, consistency and thirst for runs are drawing comparisons with the greatest of them all, Sir Donald Bradman.
The numbers
Smith made his maiden century in the fifth Test against England in August 2013. Since then, he has taken his tally of three-figure scores to 22. No one else has made more than 17 in the same period.
In that timeframe, he averages 72.76. Of other batsmen to have played more than 30 matches in that period, only New Zealand captain Kane Williamson's 64.89 comes close.
Still, we're talking about a relatively small sample when you consider the history of Test cricket goes back to 1877.
So consider this: during his merciless torture of the England attack on Saturday, Smith raised his career average to 62.89 - better than all to have ever played the game, with the exception of Bradman.
Think about that. Think of all of the great batsmen. Think of the greatest of the greats - Sachin Tendulkar, Viv Richards, Len Hutton, Brian Lara and Jack Hobbs, to name a few.
Smith has a better average than them all.
All-time top Test batting averages (minimum 20 innings)
Innings
Runs
Average
100s
D Bradman (Aus)
80
6,996
99.94
29
S Smith (Aus)
108
5,786
62.89
22
A Voges (Aus)
31
1,485
61.87
5
G Pollock (SA)
41
2,256
60.97
7
G Headley (WI)
40
2,190
60.83
10
The International Cricket Council has applied its ranking system historically, coming up with an all-time list. Smith is fifth, behind Bradman, Hutton, Hobbs, Ricky Ponting and level with Peter May.
"At the moment his bat looks 6ft wide," said former Australia captain Mark Taylor.
"Smith has got an insatiable appetite for runs. You can see when he bats, he gets in that little bubble. He's almost oblivious to everything that's going on around him, except the ball that is coming out of the bowler's hand."
How does he do it?
"I know nothing about style. All I'm after is runs."
The words of Bradman, but they could easily have come from the mouth of Smith.
The Australia captain has a unique method, one so far removed from the MCC coaching handbook he could almost be playing a different sport.
To study Smith at the crease is to watch a man expending so much energy one wonders how he has the strength to bat for days on end. Twitching, fiddling, forever on the move.
The pre-delivery routine is always the same. Touch the left pad, then the right pad, then the box. Taps of the bat come in pairs, then one on its own, two flexes of the knees before the bowler delivers the ball.
Afterwards, it may be the hold of a pose as the ball skims to the boundary. Maybe it's a trotted single, pads on the outside of his knees and bat carried in both hands. It could be scampering between the wickets, heels kicking up to the backside, the urgency of a dog running after a ball.
If it's a dot ball, the fidgeting begins again. Right pad, box. Left pad, helmet. Walk to square leg, come back, begin pre-delivery routine.
In between those rituals, the actual batting has just as many moving parts.
Back and across to the pace bowlers, a move forward to the spinners. A backlift that takes the blade to gully, but always delivers the full face to the bowler.
Shuffle to off stump, giving the certain feeling that he will be either bowled or lbw. Not a bit of it. He never misses.
To bowlers, he is the ultimate irritant. There are Bradman comparisons to be found here, too.
"If you watch carefully, when he has his bat lifted towards third slip, then gully, then it comes right around, it is very much like Bradman," said former England opener Geoffrey Boycott.
As for the footwork - that wander towards point - it was forged to combat a weakness.
"It's a technique that has evolved," said Simon Katich, the former Australia opener who was New South Wales captain when Smith made his first-class debut.
"He was quite compulsive at playing the short ball and it got him into trouble. As a result, he felt he needed to get inside the ball more.
"He's so comfortable with people trying to bowl at his stumps because his strength is on the leg side."
If the technique is unique, then Smith's thirst for runs in unquenchable. It leads to hours in the nets, even if that means asking for help from unusual places.
"If he's at home and he can't find anyone else to go and practise with, he gets his fiancee Dani to feed balls into the bowling machine just so he can go and have a hit," Smith's manager Warren Craig told Test Match Special.
"Dani is fantastic. She is such a pivotal part of the success you see on the field."
Is there a weakness?
That depends on who you ask.
Katich believes Smith has a game that can be adapted to suit all conditions.
However, former England off-spinner Graeme Swann says the Australia skipper is found wanting when he faces the moving ball. And the theory holds some water.
In the second innings of the second Ashes Test in Adelaide, when England had the pink ball swinging under floodlights, Smith looked a different player.
He survived a hair's-breadth lbw shout from James Anderson and was then pinned by Chris Woakes for only six.
Going further back, in the Ashes series in England in 2015, Smith had a tour of two halves.
On the flat pitches of Lord's and The Oval, when the sun was shining, he averaged 58.
When the ball moved at Cardiff, Trent Bridge and Edgbaston, he mustered only 92 runs at 15.83.
"When he's playing at places where the ball doesn't move laterally, he really does cash in," said Swann.
"But I'm not having the Bradman comparisons - no matter how well he's doing at the minute - because every time the ball swings, even a fraction, like at Adelaide, he is all at sea. He looked terrible.
"His technique is completely incompatible with a moving ball."
Smith the man
It's said that the captain of Australia's cricket team has a job second only to the prime minister when it comes to importance to the nation.
And while Smith is the highest-paid sportsman plying his trade in Australia, Craig says the skipper is a "normal Aussie bloke, who adores his dog Charlie".
That normality has cultivated an image that has attracted sponsors and transcended cricket.
"A lot of mums I speak to say what a great role model he is to kids, which is exactly what he wants to be," said Craig.
"The endorsements we do here are all very specific and reflect what he wants to project as a person and what his character is."
If his skills and persona are lucrative, then so too is his penchant for a flutter.
"Once New South Wales were preparing for the Champions League T20 in a town called Lismore," said Katich. "On an afternoon off, the whole team went to the races.
"Steve took down one of the local bookies. He had 100 on the nose in one of the horses in the main race and it came in at 20/1."
And two more things to remember...
1. Smith, now the best batsman in the world, made his Test debut as a leg-spinning all-rounder, batting at number eight against Pakistan in 2010.
2. He could have played for England through his English mother. In 2007, he spent a summer playing club cricket for Sevenoaks Vine in Kent and played for Surrey's second XI. He was offered a contract by the county, but returned to Australia because he wanted to earn a baggy green cap.
It's probably best not to dwell on what might have been.