Worcestershire begin global search for 'ideal' head coach to succeed Steve Rhodes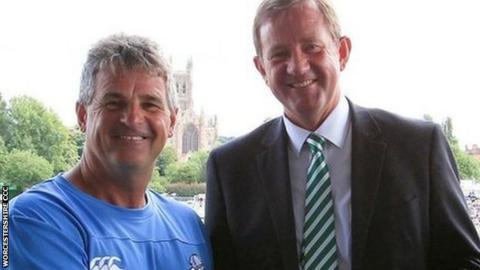 Worcestershire 'will leave no stone unturned' to find the right man to become the county's new head coach following the sacking of Steve Rhodes.
Chief executive Tom Scott, who revealed in September his own end-of-the year exit from New Road, confirmed that the search will be worldwide.
"There is so much that is attractive about the job," said Scott.
"We are prepared to undertake a global search to ensure the right person is put in place."
Rhodes was director of cricket, on the same level as the chief executive, and accountable only to Worcestershire chairman Stephen Taylor and the county's board.
However, his replacement will take the job title of head coach, which was initially Rhodes' role until being promoted in 2006.
Scott, who is currently working his notice prior to an intended Christmas departure, continued: "The search has already began.
"We will leave no stone unturned in our efforts to bring the ideal new head coach to Worcestershire.
"The new head coach can look forward to County Championship Division One cricket and the chance to work with a very talented bunch of players.
"They will understand our values as an Academy-driven county focused on producing English-qualified players to one day play for England."
He added: "During the past two or three seasons they have developed into a highly competitive unit who I believe are capable of a sustained period of success.
"Any coach would welcome the opportunity to work with our Academy which has produced so many of those players and is something we will continue to invest in as a key part of the club's future."
Rhodes left last week following an internal investigation into what the club called "a disciplinary matter".
It had been reported that he delayed telling the county about the arrest of all-rounder Alex Hepburn, who has since been charged with two counts of rape.
The club are still to make any comment on Rhodes' departure other than a 29-word statement issued last Thursday thanking him for his long service.