Day-night Ashes Test in 2019 is unlikely, says ECB chief executive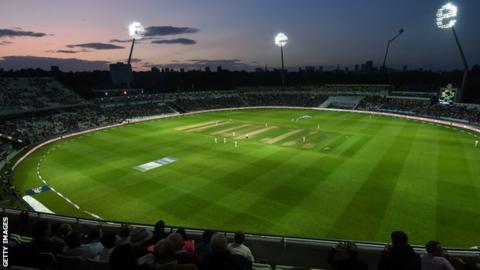 A day-night Test in England during the 2019 Ashes series is "unlikely", according to England and Wales Cricket Board chief executive Tom Harrison.
Australia hosted the first men's Ashes floodlit Test earlier this month and England beat West Indies under lights at Edgbaston in August.
However, Harrison said: "We have got a formula that works brilliantly well for us in Ashes cricket in the UK.
"We will wait and see but it is unlikely, I would say."
Day-night Test cricket is viewed as one way of halting the fall in attendances for the five-day game around the world.
Another theory is to shorten matches to four days, which South Africa are currently experimenting with against Zimbabwe in their Boxing Day Test in Port Elizabeth.
There have been seven day-night Tests worldwide since the inaugural match in 2015 but crowds have traditionally been strong during Ashes Tests in the UK.
"Right time, right place, right conditions are the rules for day night Test cricket," Harrison added to Australian broadcaster ABC.