Ashes: Alastair Cook has silenced questions over England future with double century

By Jonathan Agnew
BBC cricket correspondent
Last updated on .From the section Cricket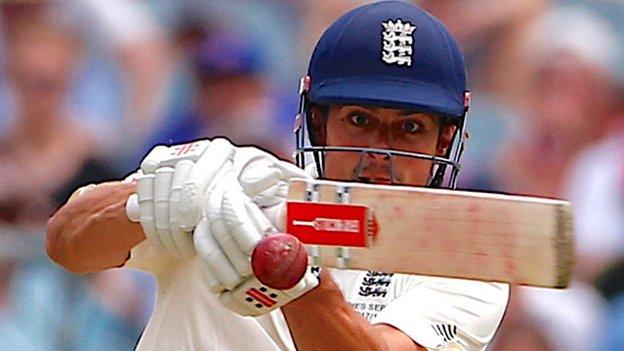 In hitting a magnificent 244 not out on day three of the fourth Ashes Test against Australia, Alastair Cook has ensured the questions about his future will go away.
I spoke to him after he reached his century on day two and there was disappointment this score has not come when the Ashes were still alive, but he has still gone out and played a magnificent innings.
He will have accepted the criticism that came after making just 83 runs in the first three Tests as England surrendered the urn and he will now feel a huge amount of relief and great satisfaction that he knows he is still good enough.
I did feel when I was out in Australia for the first two Tests that he needed to convince himself he could still do it. You doubt yourself when you are struggling.
The two most important things were:
Did he still want to get out there and score runs? It is clear that is still the case.
And, is he still seeing the ball well? Now there is no doubt about that either.
He has answered a lot of questions about his future.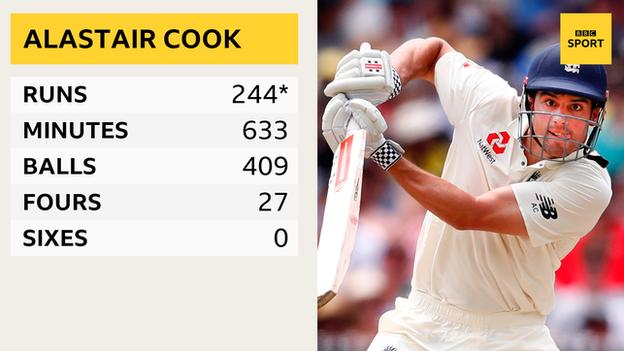 People will say the pressure is off and it doesn't matter, but that is nonsense.
He is still going out in front of 80,000 people with people talking about the end of his career. It is still as intense. It still matters.
People will also be saying Mitchell Starc wasn't playing because of his injury and Pat Cummins was ill on the first day, that is also nonsense.
You can only play what you are up against - England have been without their best player all series in Ben Stokes and that is not devaluing Australia's performance at all. You have to treat each achievement on its own and Cook's is right up there.
I always thought it was unlikely Cook would be dropped in the near future because there is no obvious replacement to open the batting.
I felt it would be down to him and whether he still wanted to do it - getting balls hurled at your head at 90mph is a difficult business after all.
If you are a proven quality in any sport, as Alastair Cook is - look at Roger Federer and Rafael Nadal this year in tennis - you don't lose it overnight. It is a combination of things that makes a player move towards the end of his career and a lot of that is willpower and drive to keep doing it.
Cook has shown that he has got it and the fact he knew he owed the team will drive him on as well.
Cook's career in detail
The 33-year-old is England's all-time leading run scorer with 11,956 runs in 151 Tests (including current match)
He has now scored 32 centuries, more than any other England player
Cook has made 11 scores of 150-plus in Tests, an England record
He has now scored two double centuries in 2017 - but has only made 412 runs in the other 18 innings combined
We have seen throughout Alastair's career that he bats in peaks and troughs.
When he is out of form he is very out of form and when he is in form he punishes bowlers. Hopefully now there will be a peak.
No doubt next time his footwork goes and head drops to the off-side people will say that's end of his career. That's the way it goes in sport.
Like with Cook, there were questions about Stuart Broad and they were genuine concerns.
He had been down on pace not just in this series but in the summer and he had struggled with his outswinger to right-handers.
He looked like he might really be struggling but it is no surprise that after taking four wickets in the first innings, he has now scored runs as well with 56 in a 100-run partnership with Cook.
He is a big game player, loves his cricket history and will have loved the fact he was playing in front of a big crowd at the MCG.
Now England have a 164-run lead, they have a good opportunity to win this match - it would be disappointing if they didn't.
In this series they have shown fight and desire that we didn't see four years ago during the 2013-14 whitewash. The Ashes have gone but of course it still matters, you are playing for your team and the supporters.
All of the talk was of a whitewash before this match and England have to make sure that does not happen.
If they win this match they will feel very different going into the final Test in Sydney and that is very important.
Jonathan Agnew was speaking to BBC Sport's Matthew Henry.