MCC Cricket Committee backs use of extreme heat policy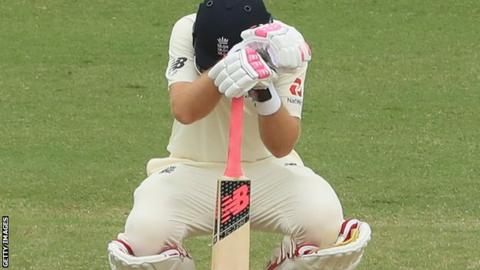 Leading figures in world cricket have recommended the use of an extreme heat policy in the sport.
England captain Joe Root was taken to hospital during the final Test of the Ashes in Sydney, when temperatures reached 47.3C.
The MCC's World Cricket committee, which met in Sydney, said umpires should be able to halt play for heat.
"There will be times where there are dangerous weather conditions, it would be silly to disregard that," it said.
England officials said Root's condition in the final Test, when he was forced to retire because of illness as his team lost by an innings and 123 runs, was a viral gastroenteritis bug and not connected to the hottest day in Sydney for 79 years.
Australia great Ricky Ponting, a member of the committee, said: "He probably had a viral thing too, but having one or two players go down seriously ill like that is a dangerous precedent just to ignore.
"I played in a game in Sharjah where it was 55 degrees air temperature and it did get dangerous."
Former England captain Mike Gatting chaired the meeting of 14 ex-players, officials and administrators, who meet on behalf of cricket's lawmakers, the Marylebone Cricket Club, to discuss prevalent issues in the game.
The existing law 2.7.1 empowers the umpires to suspend play if conditions are unreasonable or dangerous and after consultations with MCC's Laws sub-committee, it has been agreed that extremes of temperature fall within that remit.
The committee noted Cricket Australia already has extreme heat guidelines in place, which uses the Wet Bulb Globe Temperature index to measure the discomfort level based on weather conditions, and suggested such an index could be used by other bodies, including the International Cricket Council, to protect players, officials and spectators.
Law 2.7.1
It is solely for the umpires together to decide whether either conditions of ground, weather or light or exceptional circumstances mean that it would be dangerous orunreasonable for play to take place.
Conditions shall not be regarded as either dangerous or unreasonable merely because they are not ideal.
The fact that the grass and the ball are wet does not warrant the ground conditions being regarded as unreasonable or dangerous.
Other subjects under discussion included urging India's cricket board the BCCI to unite with the rest of the world game and lobby the International Olympic Committee for the inclusion of Twenty20 in the Olympic Games.
In addition it was recommended that stem guards - which attach to helmets to provide extra protection at the back of the head and neck - should be made mandatory throughout the professional game.
They have increased in popularity since the death of Australia batsman Phil Hughes, who was struck on the top of the neck by a ball during a domestic match in Sydney in 2014.
Analysis
BBC Sport's Joe Wilson
Every sport is concerned about concussion right now and the MCC committee's recommendation ''that helmets - with stem guards - should be mandatory in all professional cricket'' is fascinating.
Currently, it is not mandatory for professional players to bat in a helmet. But if they do wear one it is compulsory for the helmet to be compliant with the new British Standard BS7928:2013. That's the ICC rules. It also means that when any of us wants to buy a cricket helmet we can check to see if its safe. If it has that safety code on it, it should be.
At present, however, there is nothing like that in place for neck guards. These protectors, attached to the back of helmets, represent the biggest visible change in cricket protection for 30 years.
The 2014 death of Australian batsman Phillip Hughes, who was struck on the neck by a delivery, forced everyone in cricket to shift attention to this area of protection.
Now it is routine to see batsmen wearing neck protectors but, crucially, there's no safety standard or even any agreement on how exactly they should be tested to establish one.
The ICC recently told me there is an "ongoing project" to develop a test and introduce a safety standard. That's an increasingly urgent issue as neck protectors are manufactured and sold without any clarity about how they should be made and the specific purpose they serve.