Chris Jordan's catch stuns spectators in England T20 defeat by New Zealand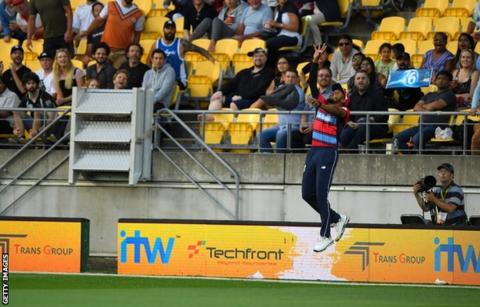 Is it a bird? Is it a plane? No, it is a flying Chris Jordan taking another sensational catch.
Cricket players, pundits and spectators were stunned when Jordan did what Jordan does best in England's Twenty20 international against New Zealand.
Batsman Colin de Grandhomme attempted to clear the long-on boundary first ball, and seemed to have managed it, but Jordan leaped high off the ground to pluck the ball out of the Wellington sky.
"Oh my lord. That is an extraordinary bit of cricket," former England batsman James Taylor said on BBC Test Match Special.
"Chris Jordan - leaping like a salmon, one-handed above his head - grabs it and manages to keep his balance and stay within the boundary rope."
If the catch was good, the celebration was arguably even better.
Rather than run a lap around the pitch or take his shirt off, Jordan casually walked away, before being mobbed by his team-mates.
TMS commentator Kevin Howells said: "Sometimes he is too cool for school."
It was a rare bright moment for England, who went on to lose by 12 runs, their third successive defeat in the tri-series.