Glamorgan Cricket: Welsh T20 franchise would be 'massive', says Colin Ingram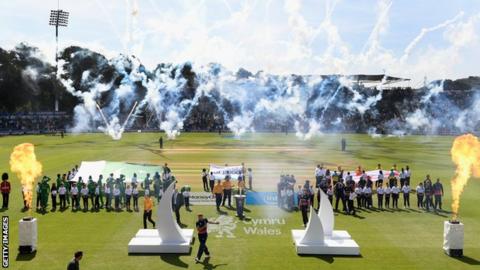 Glamorgan limited-overs captain Colin Ingram says it would be a boost for Wales to be allocated a franchise in the new city-based T20 competition.
Cardiff is tipped to be one of the eight host venues with an announcement due on Wednesday, 14 February for the competition which starts in 2020.
"For Cardiff to get one of those franchises or city-based teams would be massive for Wales," Ingram explained.
International cricket venues for 2020-24 are also due to be announced.
Glamorgan's Swalec Stadium is not thought likely to stage any Test matches during the five-year period, but the county are hopeful of continuing to attract limited-overs internationals, as well as the new domestic T20 event.
Ingram has a winner's medal with Adelaide Strikers from his first experience of the Australian Big Bash competition, the T20 tournament whose success the England and Wales Cricket Board is hoping to emulate.
"People out in Australia think they have rejuvenated cricket in Australia," he said.
"It (Big Bash) is a world-class competition. I know the people in the UK and I know they love their cricket and have been supporting their counties over a good many years.
"But creating more excitement can only bolster the county cricket system in general. It will be great to be a part of [and] hopefully Cardiff will get a team."
Ingram contributed innings of 68, 66 and 48 in the Big Bash tournament victory and was coached by former Australia bowler Jason Gillespie, who spent a year with Glamorgan.
"I have been meaning to play there for a couple of years, and I know a couple of guys in the Glamorgan dressing room have been involved," explained Ingram.
"There is a lot of hype and an all-round package, it's at a great time of year in Australia playing in some big iconic stadiums, and the crowds get behind the teams."
Ingram did not win a contract in the Indian Premier League auction, removing any risk that he will miss part of the 2018 season in the UK.
He will play for Karachi Kings in the Pakistan Super League in Dubai, and then has a five-week break before beginning his Glamorgan duties.
"I am looking forward to being nice and fresh when I get there (Wales).
"Doing back-to-back seasons over the last few years has taken its toll. I am looking forward to playing formats I am probably best at.
"The leadership role is a great honour and I can come in with some fresh energy and new ideas."
Ingram will lead Glamorgan in the 50-overs One-Day Cup competition and T20 Blast, taking over from the retired Jacques Rudolph, while Michael Hogan continues to captain the Championship side.