Ben Stokes: England all-rounder to join squad in New Zealand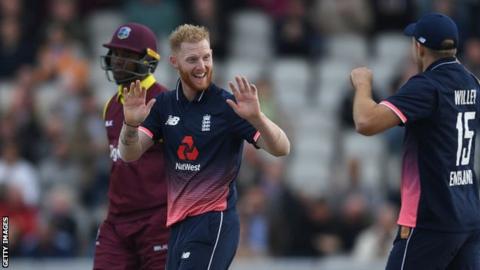 Ben Stokes will join the England squad in New Zealand after appearing at Bristol Magistrates Court on Tuesday on a charge of affray.
The first hearing of Stokes' trial is scheduled for Monday, 12 March at Bristol Crown Court, although he is not required to return to the UK to attend it.
Stokes, who missed the recent Ashes series which hosts Australia won 4-0, will arrive in Hamilton in Friday, where England face the Black Caps on Sunday.
However, an England and Wales Cricket Board statement said Stokes "is not currently being considered" for the ongoing T20 tri-series, which ends on 21 February.
England then play five one-day internationals and two Tests against New Zealand.
"Any decision to include him in upcoming matches will be made by head coach Trevor Bayliss and the England management team," the statement added.
"As soon as he was available to come we wanted him to get out here," Bayliss told BBC Sport on Tuesday.
"I think getting back to cricket will be a relief to him. He's an out and out sportsman and that's what he does best."
England in New Zealand in 2018
18 February
Twenty20: New Zealand v England, Hamilton (06:00 GMT)
21 February
T20 final: Australia v England or New Zealand, Auckland (06:00 GMT)
25 February
1st ODI with New Zealand, Hamilton (d/n) (01:00 GMT)
28 February
2nd ODI, Mount Maunganui (d/n) (01:00 GMT, moved from Napier)
3 March
3rd ODI, Wellington (Westpac Stadium) (d/n) (01:00 GMT)
7 March
4th ODI, Dunedin (22:00 GMT, 6 Mar)
10 March
5th ODI, Christchurch (22:00 GMT, 9 Mar)
22-26 March
1st Test, Auckland (d/n) (01:00 GMT)
30 March-3 April
2nd Test, Christchurch (22:00 GMT, 29 Mar-2 Apr)
Stokes has not played for England since an incident outside a Bristol nightclub in September.
Stokes played six domestic matches in New Zealand in December.
He appeared in three one-day games and three T20s for Canterbury Kings after being cleared to play by the ECB.
Stokes returned to the UK to spend Christmas with his family and has been given permission to take part in the Indian Premier League, which starts in April.
Ben Stokes timeline
25 September - Stokes and team-mate Alex Hales are involved in an incident at about 02:35 BST near Bristol's Mbargo club which left another man needing hospital treatment for facial injuries. Stokes is arrested by Avon and Somerset Police and released under investigation.
27 September - England include Stokes in their 16-man Ashes squad, despite him suffering a minor finger fracture on his right hand. Hales is not included.
27 September - The Sun newspaper releases footage that allegedly shows the incident involving Stokes and Hales.
28 September - The ECB announces Stokes and Hales will not be considered for selection for England matches until further notice.
11 October - Stokes loses his sponsorship deal with sportswear brand New Balance.
28 October - England fly out to Australia for the Ashes without Stokes.
23 November - England lose the first Ashes Test against Australia by 10 wickets in Brisbane.
27 November - The ECB issues a statement denying Stokes is joining England's squad after a picture is posted on Twitter which it is said shows him at Heathrow Airport.
29 November - Stokes arrives in New Zealand to play for Canterbury Kings.
29 November - Avon & Somerset Police announce they have completed their investigation and have sent their findings to the Crown Prosecution Service.
4 December - It is announced Hales will not face criminal charges, and the ECB says he is available for selection.
6 December - Stokes is named in England's one-day squad for the five-match series against Australia in the new year.
23 December - Stokes ends his spell with Canterbury and returns to England.
11 January - Stokes is named in England's Test squad for the tour of New Zealand in March and April.
15 January - Stokes is charged with affray.
13 February - Stokes granted unconditional bail after appearing at Bristol Magistrates' Court.