Glamorgan Cricket: County welcome award of T20 franchise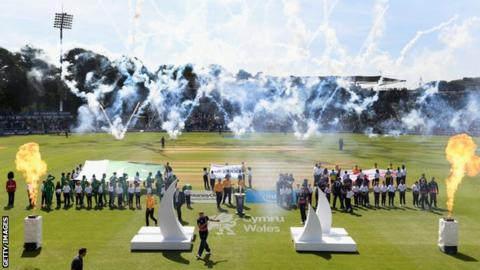 Glamorgan chief executive Hugh Morris says hosting a franchise for the new Twenty20 competition will prove a catalyst for the county.
Cardiff will be the base for one of the eight teams in the city-based competition starting in 2020.
Glamorgan will also stage eight days of limited-overs international cricket between 2020 and 2024.
But no Test matches will be played in Wales then, with Tests restricted to the traditional six venues.
"We are absolutely delighted with today's outcome and hopefully it will be the catalyst for cricket to grow in Wales," said Morris.
"We believe the new T20 competition can follow the example of the 'Big Bash' in Australia by bringing in new audiences.
"With the world's best cricketers now expected to come to Cardiff, the game can only continue to flourish."
The new T20 teams will be run centrally rather than by the counties themselves, but all 18 first-class counties have been promised £1m extra funding per year.
Glamorgan and the other hosts will receive an additional payment, thought to be around £300,000.
The county will continue to play Championship, T20 and one-day cup matches separately from the new team, with other Welsh venues potentially in line for more games during the new tournament.
"The revenue we will be able to secure from international fixtures will help put the club in a strong financial position," said the former England opener.
"We can now invest more in our team, our academy and grassroots cricket in Wales."
Internationals confirmed
Glamorgan will also host five T20 international matches and three one-day matches between 2020 and 2024.
England will face Pakistan, Sri Lanka and South Africa in IT20 matches and Pakistan in a one-day international in the first three years of that period, with two further matches in each format to be confirmed in 2023-24.
"There's less cricket to go round and plenty of venues, so we're very satisfied with what we've been given," Morris told BBC Sport Wales.
No Tests in Wales
Test cricket will be restricted to the traditional six venues of Lord's, The Oval, Edgbaston, Trent Bridge, Old Trafford and Headingley, with Southampton surprisingly missing out.
"It's not (a disappointment not staging Tests), we wanted to become a white-ball venue of choice with the ECB and there are six Test matches each summer instead of seven," said Morris.
So is this the end of Test cricket in Wales, after two successful England-Australia Tests and a financially disastrous England-Sri Lanka game?
"We'd never say never," said Morris.
"But for this period of time we want to focus on hosting the biggest white-ball matches and we're very content."