Warwickshire chief executive Neil Snowball hails allocation of major matches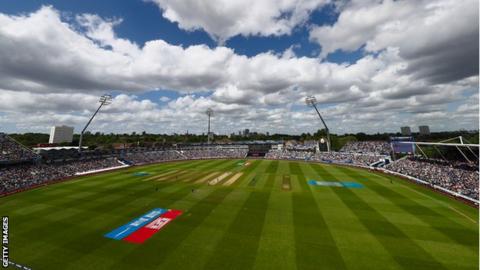 Edgbaston's allocation of major matches from 2020 is a "fantastic result" for the club, says Warwickshire chief executive Neil Snowball.
The Birmingham ground has been given 31 days of major matches from 2020-2024, including an Ashes Test in 2023 and T20 Finals Day for five straight seasons.
Edgbaston has also been named as a host venue for the new T20 competition.
"We've had a very good result for the club and the whole region," Snowball told BBC Coventry and Warwickshire.
"It's a fantastic result. We have invested an awful lot over the last 10 years, so we can deliver a much better customer experience. We see that year after year, with people flocking to major matches at Edgbaston."
Warwickshire took on significant debts to redevelop Edgbaston but Snowball feels those decisions are now vindicated.
"We have to service that debt," he said. "These allocations are really important to us. This is one of the best we've had and it gives us a certain amount of confidence to be able to plan.
"That puts us on a strong financial footing so we can invest in all aspects of the game. The revenues we receive from major matches are essential to everything we can do and we can now start planning for the next seven years."