Carew and Cresselly drawn together in National Village Cup
Last updated on .From the section Cricket110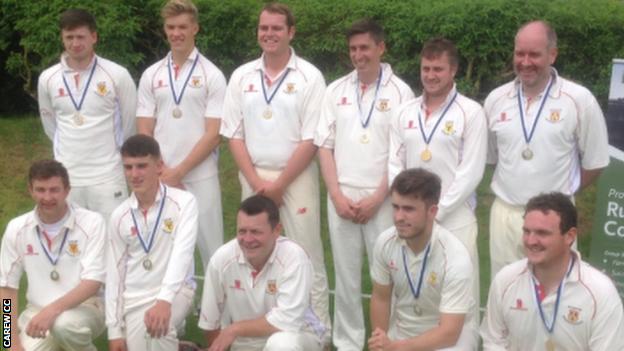 Carew and Cresselly developed a rivalry that captured national attention and sparked debate about fair play.
The Pembrokeshire teams made headlines when Carew declared on 18-1 against Cresselly in last season's final match.
The declaration meant Cresselly could not win the league as they could not pick up enough bonus points, and Carew were controversially crowned Pembrokeshire League champions.
Now the sides have been drawn together in the 300-team National Village Cup.
A row that ended in relegation
It seemed like it was just going to be a normal, if tense, village match when Carew and Cresselly met in September.
Carew started the day 21 points clear and, with 20 points for a win, declared to deny Cresselly the chance to collect any batting or bowling bonus points.
A disciplinary group was set up by Pembroke County Cricket Club (PCCC), which runs the game locally and started the investigation following complaints.
The committee ruled against Carew, who, despite having their title upheld, were relegated to Division Two, meaning they are not scheduled to face Cresselly this season in league action.
The team's captain was banned for the start of the 2018 season and the club was fined £300.
However, while Pembrokeshire cricket officials can look forward to a year off, in the league at least, from Carew v Cresselly, the expanding National Village Cup has thrown up the tie in the third round.
The match will take place on Sunday, 27 May. The final of the The Cricketer National Village Cup is staged at Lords.